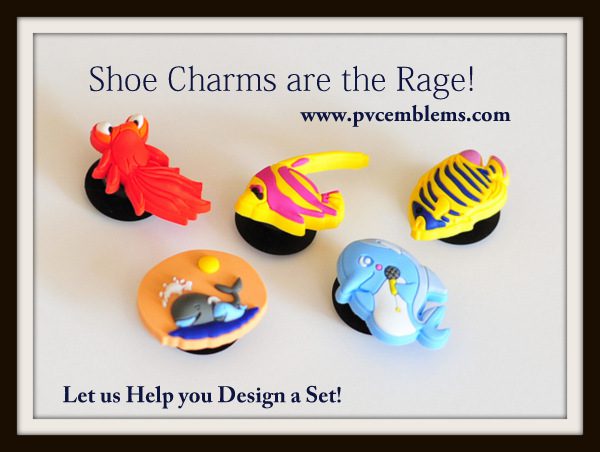 Custom Croc Charms
Create Your Custom Croc Charms with your logo. Shoe Charms have gained in popularity right alongside the Croc line of shoes.
Design your own!
Size: 3/4″-1 3/4″
Styles: 2D & 3D
Number of SOLID Colors: 1-6 (No gradients allowed in PVC)
Minimum Order: 50 pieces
What is a Shoe Charm?
Kids and grown ups alike have been buying shoe charms to wear on their Croc shoes to show their personalities and companies have started designing sets of shoe charms to sell. These soft PVC charms are full color, 3-D, PVC. As you can see by the images, the options are limitless.
Let's Create Your Custom Croc Charms
If you are interested in designing a set for your company to promote and sell; please give us a call! They are a great give-away for a special events like a 5K, charitable walk or fundraiser, or even a corporate health fair event. It's just one more great option on the long list of marketing and promotional items we can help you design.
Contact us so that we can help you put together a set of fun designs to add to your line of products.
Shoe charms for Crocs
These Croc shoe charms can be made in any shape and any size. Crocs are here to stay, and shoe charms are worn in pairs, so you will easily go thru the very low 100 pieces minimum (50 pairs).
What are the advantage of using shoe charms compared with other kind of giveaway?
Every time a customer use or wear your giveaway you are creating advocacy which is the final level of the marketing funnel, after Loyalty.
On the one hand Loyalty means that the customer will buy again and again your products because he trust you.
On the other hand Advocacy means that the customer not only trust you but also supports you by talking about you in a good way with other people, in that stage the customer is proud of you and, with or without being aware, they are promoting your business.
Another cool fact about shoe-charms for branding or for building advocacy is that you are targeting mostly children, and they are pure emotion.
That's the perfect age for building a deep connection with your audience, for creating a bond, using empathy to match your target persona, to forge a long-term business relation-ship.
If you want to promote directly your company and your logo or company emblem is not a character, Kids might not identify with your brand, instead we recommend the use of a pet, an animal or any fun character related some how to your emblem or to the product or service you be working with.
You can also take advantage of the PVC material, by choosing among a long list of colors. In the case you be addressing kids, again, we highly recommend the use of vivid colors on your custom charms to catch the attention of the little ones.
Shoe Charms Are a Great for
Fundraisers: Camps, Youth League Teams, Schools
Promotional Giveaways
Gallery
2D vs 3D Charms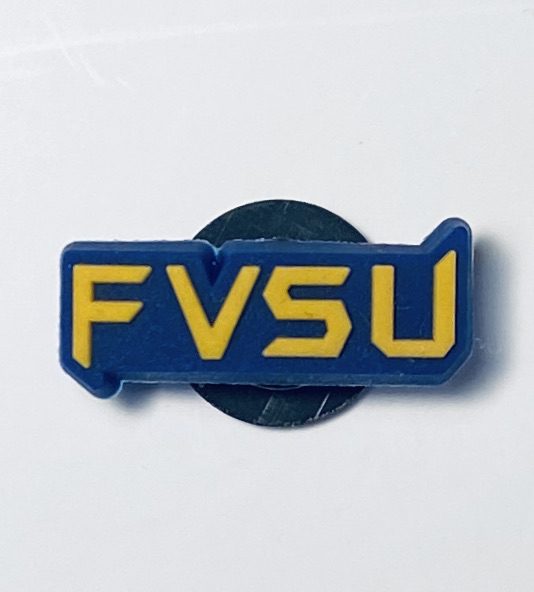 Sample Pricing
We offer high quality custom PVC charms from our low minimum of 100 pieces.
All charms can be customized: size, shape and colors can match your logo or design.
2D PVC Charm – 1″-1.5″ – Designs with up to 4 colors
MOLD FEE: $65
PRICE:
50 charms @ $2.85 = $142.50
100 charms @ $1.85 = $185.00
250 charms @ $1.25 = $312.50
500 charms @ $1.00 = $500.00
3D PVC Charm – 1″-1.5″ – Designs with up to 4 colors
MOLD FEE: $75
PRICE:
50 charms @ $3.00 = $150.00
100 charms @ $2.00 = $200.00
250 charms @ $1.45 = $362.50
500 charms @ $1.25 = $625.00
ART FEE: $35 for Complex Designs. Waived if Vector File is provided (.ai,.eps,.cdr)
Design Your Custom Croc Charms!
We will be glad to hear what kind of custom PVC product you are interested in. Custom Shoe Charms are definitely an awesome way to connect with your audience.
1.SIZE
In order for you to have an idea on size, below are the sizes of US coins:

The smallest size possible will depend on the design.
2.COLORS
The number of colors allowed is from 1 to 6 solid colors.
If you have a photograph or painting where colors blend into white or another color, those colors will need to be converted to solid colors.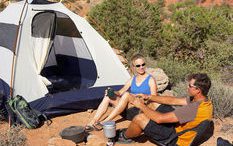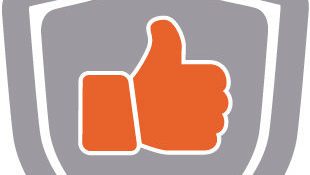 There will be a $35 used to Vectorize and simplify complex designs. Waived if Vector File is provided (.ai,.eps,.cdr)
The Key to a Great PVC Charm Design is Simplicity
Before you submit your request, there are certain factors you need to consider if you want to turn your design into a PVC charm.
Now that you have made sure your design will work well the PVC Manufacturing process, let's get started with Your Project.
Free Quote Request
Reviews
The staff that assisted me in building my department's new patch were great. They walked me through each and every step of this build. I started with a rough draft and a concept that I was shooting for. They turned that rough sketch and idea into the perfect new patch. I would highly recommend this company to others. I have already used them again relative to another agency I oversee. The quality of these patches is super!!

I love the expedient customer service and the willingness of each individual staff member to listen to the tiniest of details needed to fulfill an order.
Find Out More Making Your Own Croc Shoe Charms
We not only offer custom croc charms but also patches, badges, labels, keychains, magnets, luggage tags among other kind of custom soft rubber PVC products.
FAQ