Looking to get some Custom ACU Patches for your Unit?
More and more uniform suppliers for the military are choosing PVC Patches as their preferred branding method for their products.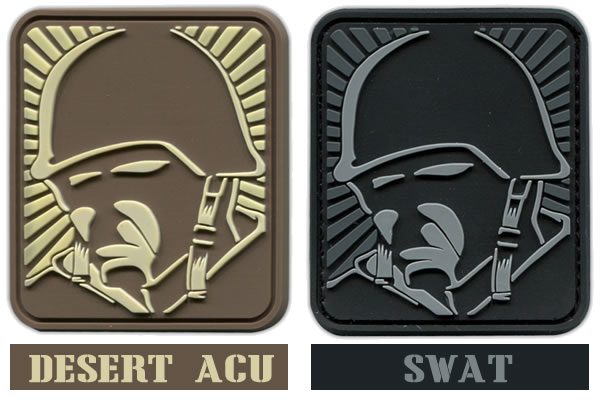 PVC Patches, Why ?
Resistance, Durability, High Amount of Details, to mention a few qualities of PVC materials.
Did you ever have an embroidered patch made, only to realize that some of your design's details were taking off do to the production methods (threads/ sewing)?
Day after day we deal with customers who get somewhat upset when some small lettering and fine details had to be simplified in order to "make them work" for the production process.
With PVC Patches, if not all elements of a design are doable (such as gradients), the amount of achievable details is by far greater than Embroidered Patches.
Did you ever spend a lot of time and money in custom embroidered patches for your uniforms, just to watch them come apart after some rough days?
For years, police and military units / departments have used embroidered patches in their uniforms. But one day in the life of a law enforcement unit uniform is not a day at the park. Some departments work their uniforms so much that their embroidered patches will get entangled, and will eventually become unraveled, losing their original quality look.
And who wants a raggedy-looking embroidered patch in their uniform? The only way your PVC patch will get destroyed is if it is either cut with a knife, or under extremely high temperatures, not before your uniform itself melts.
Did you ever ambition having a multi-layer patch?
The mold created for your PVC patch can be set-up in such way that some elements will be below base level and some others above base level, resulting in an unique piece that will have an extra-feeling to it, like a three dimensional piece.
Did you ever need to create different versions of the same design, with colors to match your product?
Once we have created a mold for your design, we can split orders and create different color versions of your design, without incurring in additional tooling charges, making it more affordable for you to re-order and customize them.
PVC Emblems is a manufacturer of high quality PVC Patches, offers FREE artwork with your order. Call today (866) 611-6164 or request a FREE Quote :
The Multicam Color Set as a mandatory color-chart for the US army camouflage patterns:
Multicam patches where you can find all the necessary for experimenting with the official military color set.
¿What is the ideal color chart for a dessert pattern?
There's not such a thing, there's no "ideal" color-chart for a desert pattern, however, maybe the Multicam desert pattern could solve your problems.
The Multicam's Arid color palette includes 5 different colors:
Olive 172
Highland 174
Light Tan 170
Urban Tan 171
Light Coyote 173
All About ACU Patches
What are ACU Patches and what do they represent?
The ACU, or Army Combat Uniform, is the new combat uniform that was introduced in 2010 to replace the Battle Dress Uniform. This article will explore what ACU patches represent and their significance.
What are ACU Patches?
ACU patches are a set of embroidered cloth badges that identify a soldier's military occupation. These badges consist of subdued insignia for ranks and units on the left sleeve, qualification badges on the right sleeve, and American flag identification on both shoulders.
How are ACU Patches made and what materials are used in their construction?
ACU patches are made using a process of applique. The design is cut from fabric and then applied to the uniform sleeve with heat-and-pressure bonding. ACU patches use a wide variety of materials, including cotton thread, wool yarn, and synthetic fibers.
What are the different types of ACU Patches that are available on the market today, and what do they represent/mean for the wearer or owner of the patch(es)?
There are several different types of ACU patches. For instance, there is a full color patch that represents the rank and unit insignias for enlisted soldiers in the Army Combat Uniforms. There also embroidered patches available from various military units which can be worn on uniforms after successful completion of advanced training courses or combat missions. These include: Airborne, Air Assault, Mountain Warfare, Pathfinder/Jumpmaster and Sapper. Additionally some patches represent awards or service such as combat medic badges for those who have been awarded the Army Medical Department badge after completing a course of study at Fort Sam Houston Texas in San Antonio.
Why should you consider ordering custom ACU Patches for your unit, squadron, platoon, or team – what benefits will they provide to everyone involved (wearers/owners and those who see them)?
Utilizing custom ACU patches will provide a unique look that can be used to identify your team or unit from other groups. This is especially helpful when you are performing the same task as another group and need to quickly establish which one of you is doing what. Custom ACU Patches have proven their worth time and again in military exercises and combat missions. They are also a great way to commemorate your achievements and recognize the accomplishments of your unit or team.
How can you order custom ACU Patches for your unit, squadron, platoon, or team – and how much will they cost you to have them made and delivered to you (or your unit)?
You can order custom ACU Patches for your unit, squadron, platoon, or team by simply contacting our team of experts at PVCEmblems. We'll work with you to create a patch that is perfect for your needs and will be proud to wear. The cost of having custom ACUs patches made and delivered to you will vary depending on the size and complexity of the design, but we always work to provide our customers with affordable prices that fit their budget. Contact us today to learn more!