More and more uniform suppliers for the military are choosing PVC Patches as their preferred branding method for their products.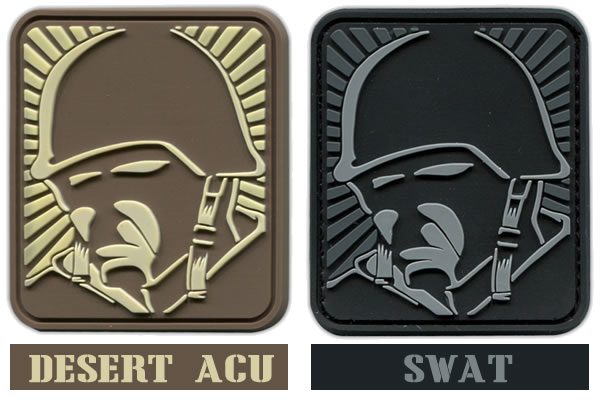 PVC Patches, Why ?
Resistance, Durability, High Amount of Details, to mention a few qualities of PVC materials.
Did you ever have an embroidered patch made, only to realize that some of your design's details were taking off do to the production methods (threads/ sewing)?
Day after day we deal with customers who get somewhat upset when some small lettering and fine details had to be simplified in order to "make them work" for the production process.
With PVC Patches, if not all elements of a design are doable (such as gradients), the amount of achievable details is by far greater than Embroidered Patches.
Did you ever spend a lot of time and money in custom embroidered patches for your uniforms, just to watch them come apart after some rough days?
For years, police and military units / departments have used embroidered patches in their uniforms. But one day in the life of a law enforcement unit uniform is not a day at the park. Some departments work their uniforms so much that their embroidered patches will get entangled, and will eventually become unraveled, losing their original quality look.
And who wants a raggedy-looking embroidered patch in their uniform? The only way your PVC patch will get destroyed is if it is either cut with a knife, or under extremely high temperatures, not before your uniform itself melts.
Did you ever ambition having a multi-layer patch?
The mold created for your PVC patch can be set-up in such way that some elements will be below base level and some others above base level, resulting in an unique piece that will have an extra-feeling to it, like a three dimensional piece.
Did you ever need to create different versions of the same design, with colors to match your product?
Once we have created a mold for your design, we can split orders and create different color versions of your design, without incurring in additional tooling charges, making it more affordable for you to re-order and customize them.
PVC Emblems is a manufacturer of high quality PVC Patches, offers FREE artwork with your order. Call today (866) 611-6164 or request a FREE Quote :
The Multicam Color Set as a mandatory color-chart for the US army camouflage patterns:
Multicam patches where you can find all the necessary for experimenting with the official military color set.
¿What is the ideal color chart for a dessert pattern?
There's not such a thing, there's no "ideal" color-chart for a desert pattern, however, maybe the Multicam desert pattern could solve your problems.
The Multicam's Arid color palette includes 5 different colors:
Olive 172
Highland 174
Light Tan 170
Urban Tan 171
Light Coyote 173