Your badge represents your company, and it is associated with honor and authority. It can be worn on your chest, shoulder, hat or jacket.
Your security guard or police uniforms are not made for an office. They should be ready to resist any event your team will be facing.
PVC will help them do just that. No threads to unravel, there is no need to be careful PVC will resist almost anything.
So go ahead and join the many security companies and law enforcement agencies that are using custom security badges and have made the switch to PVC.
Custom Security Badges – Common Designs
The images below show common shapes and design we use often for our badges. Getting yours customized can be as easy as picking one of the designs below and adding your agency's name, officer's position (sheriff, deputy) and your state's seal. We can also change the colors on these designs as well.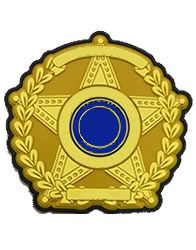 Find Out More About
Custom PVC Badges
Custom Police Patches for Law Enforcement
Patches for Police Uniforms – Patches for Sheriff Departments
Police Patches For All Units – Even K9!
Customer Reviews
PVC Patch Police Badge


5 out of 5 stars

11/05/2019

"We like them a lot. we thought the detail in the Army crest was going to be a little muddy but the detail was great!"

Dave Tracy

PVC Patch Superior Court Star


5 out of 5 stars

06/12/2019

"The product made was excellent."

Bill Castaneda

PVC Patch - Police Badge


5 out of 5 stars

11/05/2019

"We like them a lot. we thought the detail in the Army crest was going to be a little muddy but the detail was great!"

Dave Tracy