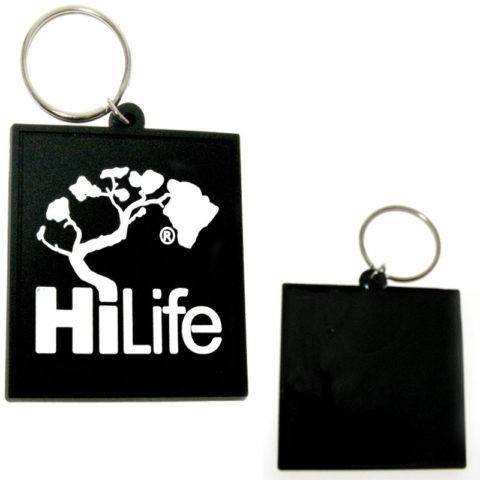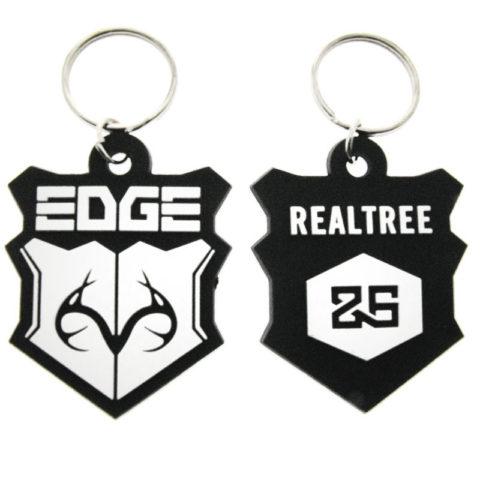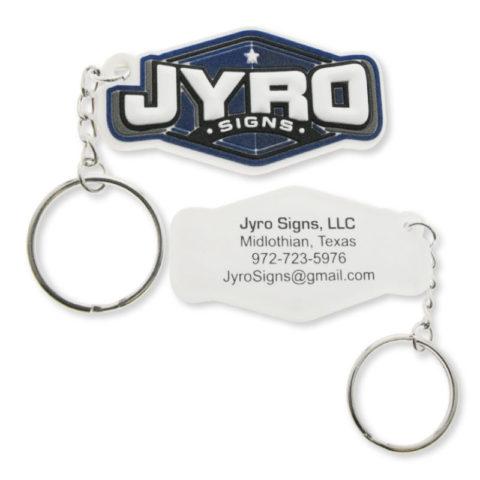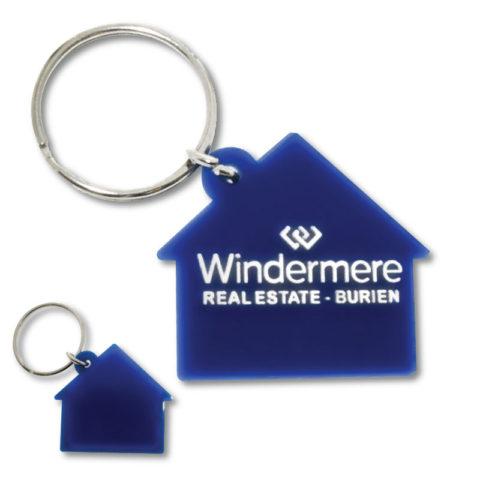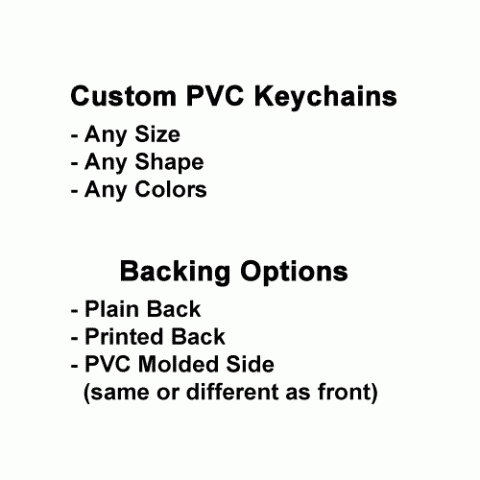 Custom Rubber Keychains – Make Your Logo Really Stand Out!
Thanks to the Soft Rubber PVC Material a high degree of resolution is possible, resulting in sharp, crisp and colorful keychains. We offer color matching, two sided design and die cut (any shape). Our Rubber keychains are suitable for any logo, name or design. We deliver in a timely manner.
Custom Rubber Keychains are not only soft, bendable, waterproof and long lasting but also they allow 3D design as they are die-made using layers.
All of our PVC Keychains are quoted on a case-by-case basis, we will need your artwork/design/sketch and a detailed description of your project for accurate quoting.
CUSTOM LOGO Keychains Gallery
See how other customers took advantage of this useful promotional item
What do You Need to Know About Custom PVC Rubber Keychains?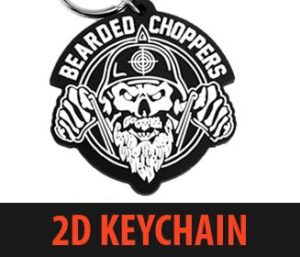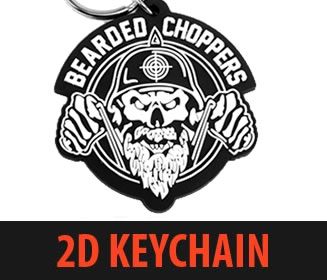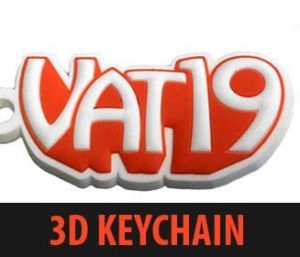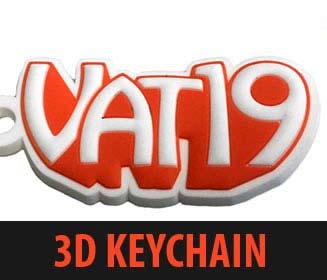 Mold Style: 2D vs 3D
Give your key tags a unique personality with a 3D design.(or fake a 3D look with 2D layers).
One of the reasons why people love Soft PVC is because it makes possible an almost infinite design possibilities, being able to have layers on top of layers, or below layers, it can give your PVC keychain an outstanding look. A sort of 3-dimensional look.
And some people might think that's what we are referring to when we ask about a 2D or 3D mold style. But it's not.
On the one hand, when we talk about a 2D mold we talk about 2D layers, which are layers that flat on top, picture sharp corners on a side view and a "solid" look to it.
On the other hand 3D Key chains use 3D layers, which are layers that are "puffy" looking. They have a curved top so there is no sharp corners, they "flow" a little.
Visit our 2D vs 3D page to learn more.
What's the Difference:
Soft Rubber Keychains vs Silicone
Our standard Rubber Key Tags are made out of PVC, which is a material that combines a very nice look along with durability.
We also offer Silicone key chains, which are a bit more expensive but they have the advantage of being safer for the environment.
PVC vs Metal Keychains
Both PVC and metal manufacturing will work great for keychains, especially when they are used as promotional gifts.
While metal keychains will give a classic feel, a soft rubber key chain appeals better to a more relaxed, youthful market.
Others, such as a law enforcement office will probably prefer a metal keychain and a youth camp, or a custom car shop will probably like a PVC keychain better.
Keep in mind that just as custom metal keychains, soft rubber keychains can be customized, they can be:
Dual sided: Same design on the back as in the front.
2 or 3-dimensional look: Square or Rounded elements.
Offset-printing on the front and silk screen printed on the back.
Pricing
When we talk about custom rubber keychains, every project is different.
Size, Shape, Thickness, Layers, Colors can all affect the price, so please send us your design and a detailed description of your project for accurate quoting.
Ask your Rep about ways of making your product unique:
2D and 3D Printed
Cut-Outs
Base Layer color: Black is standard but any color is possible.
Backside Printing: Silk-screening in one color.
There is no extra charge for multi-layers and custom shape products.
Order Process: Custom Rubber PVC Keychains in 4 Easy Steps!
If you are looking for an affordable and powerful promotional product for your next marketing campaign, PVC Key chains will not disappoint
Custom rubber keychains are creative, practical, and versatile for any company or business.
Eye-catching keychains will be the perfect advertising tool that will give any onlooker an instant idea of what your business is all about.
Get Your Logo in a Custom Keychain!
As a business owner, you're always looking for new ways to promote your brand and draw customers in.
You've probably already tried pens with the company name and logo on them. But Custom keychains can be a much more effective choice.
While pens are useful, keychains are both practical and attractive. While pens may be misplaced and lost forever, a keychain will stay with an individual along with his important house or car keys.
The very fact that a potential customer would place your promotional keychain on his keys shows an interest in your product.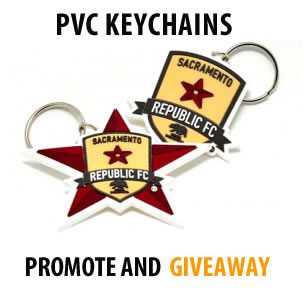 Every time that individual grabs his keys on the way out the door, he will see your keychain and think about your business.
In the car hanging from the ignition, on the desk, in a pocket, or fished out of a purse…
Every time this person looks at his keys he will immediately think about your company and recall his experience at your place of business.
Also, anyone else who notices them will be indirectly informed of your company.
The more unique your design, the better the chances of it becoming a conversation starter where customers can even turn into promoters of your business.
Word of mouth is the best marketing strategy of all.
Unique and Versatile!
Custom Rubber Keychains are a very versatile marketing option as well.
They can be made to accommodate any business, from car washes to doctor's offices. Colors, fonts, logos, and shapes can all be customized to reflect the tone and character of your company and the products you sell.
A keychain can be made to look fun and whimsical or sleek and professional. Also, some people love to collect them, therefore, it might be a good idea to create a couple of different styles to cater to differing tastes.
What Makes Rubber Keychains Different Than The Plastic Ones? Soft PVC keychains in particular offer an entirely new world of possibilities.This kind of keychains are far more attractive because:
They can be created in any 2D or 3D shape and unlike other materials, longevity and wear are not issues.
Soft PVC, is a very durable material that allows intricate artistic designs with a high degree of resolution.
Color options are limitless.
These choices allow you to be extremely creative to design a keychain that is one-of-a-kind so that customers will not be able to resist adding it to their keys.
Give your customers and potential clients a keepsake they'll use everyday.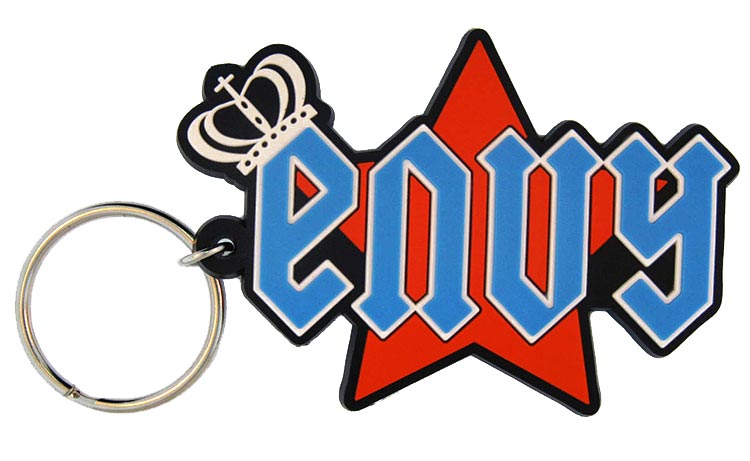 Custom PVC keychains are a unique and memorable way to remind them of their great experience with your company.
---
Customer Reviews
PVC Key Tag


5 out of 5 stars

07/06/2022

"Really liked the ease of reordering my cute promo key chain. They came in quickly and were exactly the way I wanted them. Becky was a big help!!!"

PVC Key Tag


5 out of 5 stars

03/03/2022

"Very considerate company. I appreciate that they kept in touch with me and patiently answered all my questions."

PVC Key Tag


5 out of 5 stars

03/10/2022

"Team Becky can't be beat. She is always connected to your job & makes sure it's done right. She follows up before, during & after the job is complete. AND the custom work is terrific. I am a very happy customer!"
Give us a call and talk to a Real Person
The most reliable keychain maker, will help you create Awesome Custom Products for your company