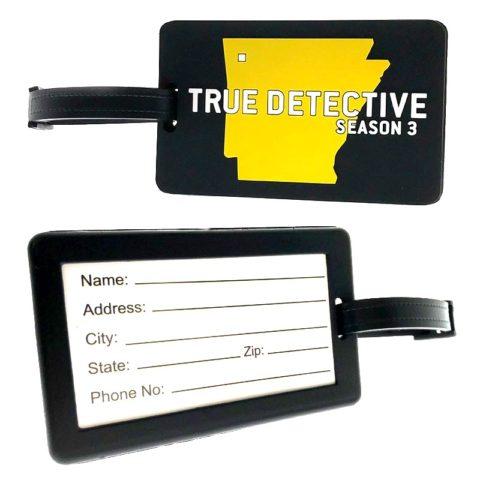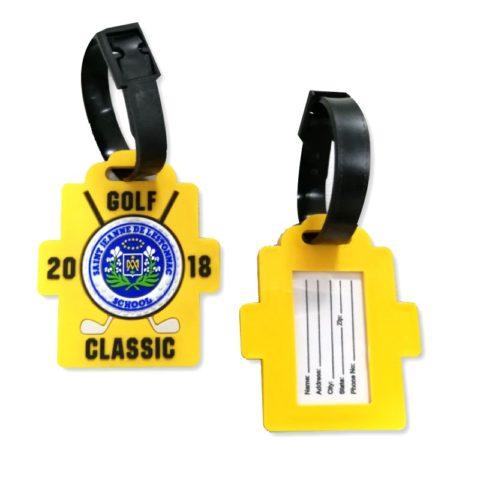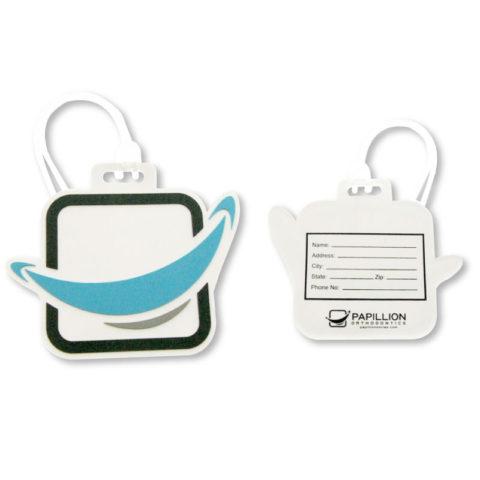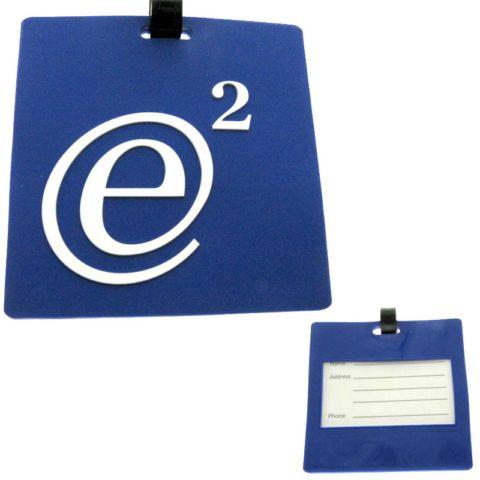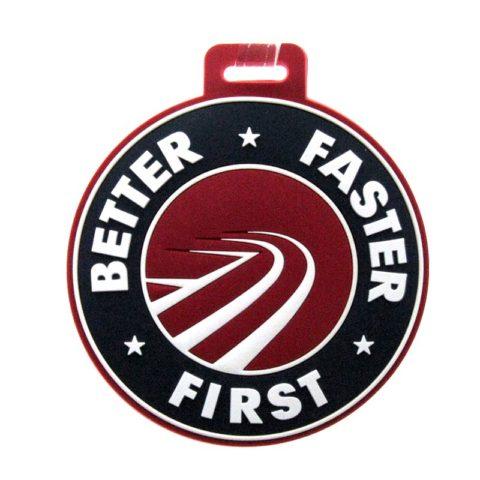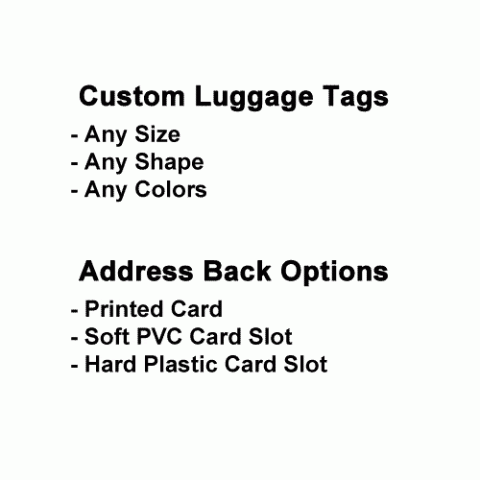 Luggage ID Tags
Soft PVC Luggage Tags
Durable, Soft, Resistant, and Amazing Design Possibilities!
Custom Rubber luggage tags made from PVC offer a lot of versatility in comparison to standard luggage tags.
The design possibilities with soft PVC are endless. There are none of the limitations that traditional luggage tags have. Gone are the strict rules of business card shaped tags, and are born the unique shaped and creative tags of the future.
All of our Soft PVC Luggage Tags are quoted on a case-by-case basis, we will need your artwork/design/sketch and a detailed description of your project for accurate quoting.
Custom Luggage Tags – Options
Address Back Options
How to Order custom luggage tags?
1. Quote Request
Request your FREE Price Quote: – Online: Fill out our FREE Quote Request Form – Email: sales@pvcemblems.com – Call: 1-866-611-6168
2. Price Quote is Ready
We'll send you and email with your pricing, for your approval. Once you approve your price quote and submit payment info…
3. Art Quote is Ready
We'll send you and email with your Art Proof attached, for your approval.
art-proof. Once you approve your Art Proof.
4. Factory Art is Ready
We'll send you and email with your Factory Art attached, for your approval. Once you approve your Factory Art…
5. Your Sample is Ready
We'll send you and email with your Pre-Production Sample attached, for your approval. Once you approve your Pre-Production Sample…
6. Order in Production
We'll manufacture your PVC product. It will take between 15 to 20 business days for us to receive it in the office.
7. We'll Ship To You
We will ship your order to you, usually Fedex Ground. If you need it faster, we can expedite it as well.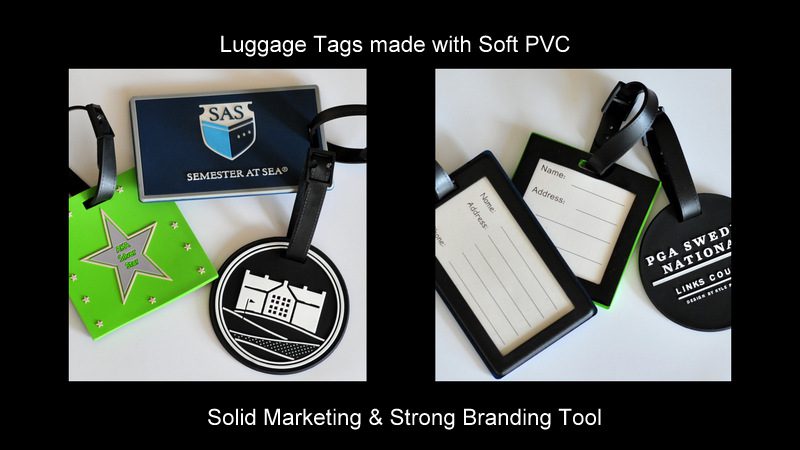 Why to choose our Personalized Luggage Tags made out of PVC ?
Since soft PVC is so versatile, there are many design possibilities.
Traditionally, the most popular is printing a logo or emblem on the soft PVC material. For example, you might have your logo that is two colors be printed on top of a solid grey PVC material. The final touch for the luggage tag will be the cutout for the attachment, which hooks onto the luggage.
2D and 3D
Gaining more popularity these days has been the use of either 2D (molding raised and recessed areas of the design) or 3D (used in conjunction with 2D to provide aspects that are rounded/convex – giving the perception of even more depth) with soft PVC. Many of our customers have taken a soft PVC Patch idea and turned it into a corresponding luggage tag.
Strength
Another benefit of using soft PVC for luggage tags is their durability. Since luggage is typically moved from place-to-place, in and out of trunks and overhead compartments, or going into the underbelly of aircraft, it's important to make sure that your unique design will stand up to the elements. This is no problem for these custom PVC luggage tags as they will last the longest of any custom material.
Custom Shaped
PVC gives you the possibility of making custom shaped luggage Tags. This means you don't need to adapt your logo to a frame or rectangle, there's no need to shrink it or stretch it, our soft rubber luggage tags will adapt its shape to the one of your brand.
Promote your business with great gifts
Our high quality custom rubber bag tags are an awesome promotional product you can choose to give them away after closing a sell or at trade shows for instance. Another approach is to include these items as a part of your advocacy campaign rewarding those customers who have shown their loyalty to your product or service. These kind of custom items are commonly used for identifying Hockey Bags when traveling long distances.
Customer Service
One of the greatest advantages of working with us is that we offer human to human friendly customer service. Feel free to reach us any time, by phone or email or even visiting us at our offices located in the city of Carlsbad, California. PVC Emblems is a division of Linx Corp. wich is a reliable US based custom promotional products supplier with more than 15 years in the market.
---
Soft Rubber vs Silicone
Our standard luggage id are made out of Soft Rubber PVC, which is a material that combines very pleasing aesthetic qualities along with durability.
We also offer eco-friendly silicone luggage tags, which are a bit more expensive but they have the advantage of being safer for the environment.
Customer Reviews
Chad Hullinger
2021-12-08
Absolutely phenomenal product! Every single request was met with professionalism and quality down to the finest detail. Will forever utilize this product for all my patch and badge needs!
Tiffani Worthy
2021-08-19
What a wonderful process and product! From beginning to end the process was straightforward, easy and customer focused. The shoe charms are just as described and pictured during the ordering process and they arrived sooner than expected. I would absolutely recommend for anyone looking to create a custom PVC product.
Definitely will use this company moving forward!
FRONT HARNESS by The Front Dog
2021-05-26
My logo has no eyeballs now- Not because they were too small but because LINX (aka Sarah my contact) said I "ok'd" it in a final preview. The file I gave had eyeballs. There was back and forth over incorrect sizing so I sent them the eps file for them adjusted to correct size- with eyeballs. The previous previews they sent back had eyeballs. (See below) - By the time I got the file size correct I didn't notice the eyeballs were now gone. The art proof I approved had eyeballs. The Factory Art Proof did not. I mentioned it after final preview and am told " The factory art was approved without it, as well.". There is no quality control internally. Make sure you look at EVERYTHING 3 times. Who knows what will change in the interim? Also the fact there was no interest in correcting this by the company also bothered me. No new plate? What am I supposed to do with an incorrect plate? Make more like that?? Otherwise- would've ordered thousands more but instead will find someone else who holds customer satisfaction as important. I included my eyeball less dog for reference and pics of previous drafts with them.
Great Product! Couldn't have been more pleased. The product and the price is great.
Love the end product! Sarah was very patient with me and the whole order process making it easy. Very professional and the best rate I found. Will do business with again. Thank you!
Julio Esquivel
2021-04-21
Great service, great time frame and above all, awesome product
Great product, second ordering from company. Fast service, would order again.
Superb quality! And super fast shipping! Thank you very much for the customer support. I needed to make an adjustment just before production and they were happy to make it in real time as I was on the phone! Next thing I know I was unpacking them. Definitely will be ordering more of my patches from PVC! Thank you
chris henderson
2021-03-03
Amazing customer service, amazing patches high quality and everything my whole department absolutely loves these
PVC Luggage Tags


5 out of 5 stars

09/03/2019

"Very prompt, clear communications, and we're very happy with the final product."

PVC Luggage Tags


5 out of 5 stars

09/25/2019

"Dan was very helpful and we got exactly the design we were looking for! The luggage tags look amazing!"

PVC Key Tags


5 out of 5 stars

03/11/2013

"Very satisfied. Your quick and efficient customer service, ability to work with the client, prices, etc were all fantastic. Will definitely be doing business again, and have already referred two potential clients in the same industry as me."
Rubber Luggage Tags


5 out of 5 stars

12/15/2010

"Worked with me to correct colors for best production."

Luggage Tags


5 out of 5 stars

08/01/2013

"Dan did a QR code luggage tag that he'd never done before but was willing to try it as an experiment. it turned out great!"

PVC Luggage Tags


5 out of 5 stars

11/13/2018

"Extremely patient in working with us on developing the appropriate graphic for our request. Finished product was exactly as expected. Professional interactions via email regarding updates on production."