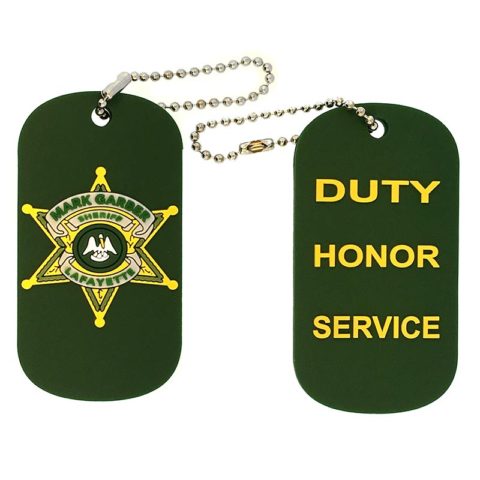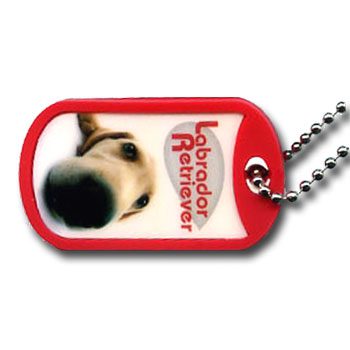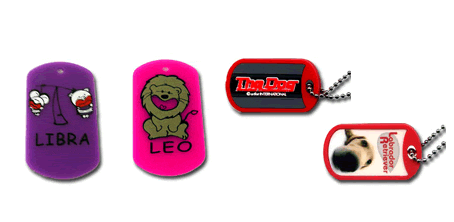 Custom Rubber Dog Tags
Rubber dog tags provide a very versatile and flexible platform to place your emblem/design, or any other identifying information on. Rather than using metal for your dog tag, look towards soft PVC for a more flexible design that will last for a long time to come.
All of our Soft PVC Dog Tags are quoted on a case-by-case basis, we will need your artwork/design/sketch and a detailed description of your project for accurate quoting.
Are you considering Custom Soft PVC Rubber Dog Tags for your promotion?
Send us your project's details and we will help you make your project a reality
Rigid Yet Flexible Design
PVC Dog Tags are thick and provide a great canvas for your design or information to be conveyed upon. Unlike traditional dog tags, there is no metal used in making this item. Instead, it's 100% soft PVC rubber. This material allows for a very rigid area to place your information, but also provides the flexibility you need.
Bring Dimension to your Dog Tag
Unlike traditional dog tags, a soft rubber dog tag will allow your design to show in ways that you never imagined. Because these dog tags are molded, the ability to add different layers to your dog tag is possible. An example of this would be either adding 2D areas (raised and recessed portions to emphasize certain aspects of your design), or have portions made in 3D (areas that are rounded/convex to give the appearance they are coming at you). Take a look at our gallery to get an idea of all the possibilities using PVC for your next project.
History of dog tags used by soldiers.
It was during the American civil war that due to the difficulty of identifying losses in battle, people started thinking of a better way for identifying soldiers.(Wikipedia)
The first attempts for solving this problem were done by writing names and unit designations on paper tags and on pieces of wood.
These improvised identification methods were used until 1906 when a circular aluminum disc was proposed as a solution to the matter. Seven years later these sort of round tags were made mandatory by the military and were applied in World War I.
Some of the information handstamped on them was the name, rank, serial number, unit, and religion of the soldier.
In World War II the US army, changed the impractical rounded shape by a rectangular one with round corners. These tags had a notch on one side.
Although several hypotheses emerged to explain the nature of this notch, some of them darker than others, notched tags were just the result of its production process because the stamping machine needed to keep the tag holded in place while embossing.
From Vietnam War onwards the current nine-day digit Social Security Number is added to these military tags.
The Future of Dog Tags:
Nowadays the air force, the army and the navy think in dog tags as a part of their combat uniforms.
According to a New York Times report, in the close future dog tags will come with a microchip with medical and dental information about the soldier.
Rubber Dog tags vs the Metal ones.
One of the main downsides of the old fashioned dog tags was the noise they made. An easy solution for this is adding what's called dog tag silencers, a strip of dark silicone that surrounds the tag's edge avoiding the annoying tag tinkle.
However, why to have a stainless steel, anodized aluminum or metal tag when you will have to add rubber silencers to them? Plastic dog tags are more practical and cost-effective. Plus, with this kind of personalized dog tag you can choose color.
Don't Get Confused! – We don't sell these kind of Dog tags.
If for some reason you arrived here searching for tags for your pet, we are sorry.
Here you won't find a single pet id tag, nor a single dog tag chain, a cat tag or a tag necklace.
We do not sell pet tags, rubber dog tag silencers, pet collars, or blank dog tags.