Wearing Thin Blue Line Patches is a great way of showing your support for our Police Officers. Some choose to express themselves publicly and in many many ways: t-shirts, flags, rings, bracelets and more.
Others choose patches being embroidered, woven, printed or PVC, it doesn't matter what the method is, supporting them is.
The thin blue line is something that has become deeply ingrained in the fabric of American society. It's a way to honor those who have served and to pay tribute to those who have fallen. The thin blue line, or law enforcement PVC patches, are becoming more popular than ever before.
And as many of our customers ask us for help in developing their Thin Blue Line patches, we want to honor them by displaying them in a nice compilation, just for you:
We asked our customers for their input on what they wanted from us and we compiled these 10 awesome thin blue line patches just for you!
Some Thin Blue Line Flag Patches
Strong Blue Line Patch – England with Texture
This is not a thin line, this one is strong, another modern variation of the old fashioned Thin red line as we will explain later. We definitely love this patch and its energy! It make us think there are healthy and young people behind this idea. The adjective "thin" refers to the police officers as victims, this brand new strong blue line refers to them in a way that make us see they as undefeatable heroes.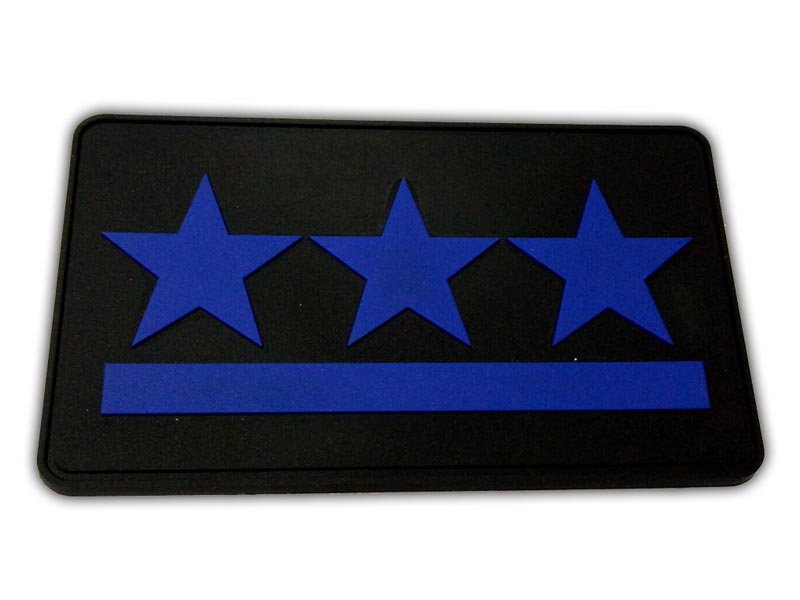 One Nation Stars Blue Line PVC PATCHES
Sometimes the best impact is made by a simple yet bold design for this thin blue line PVC Patches.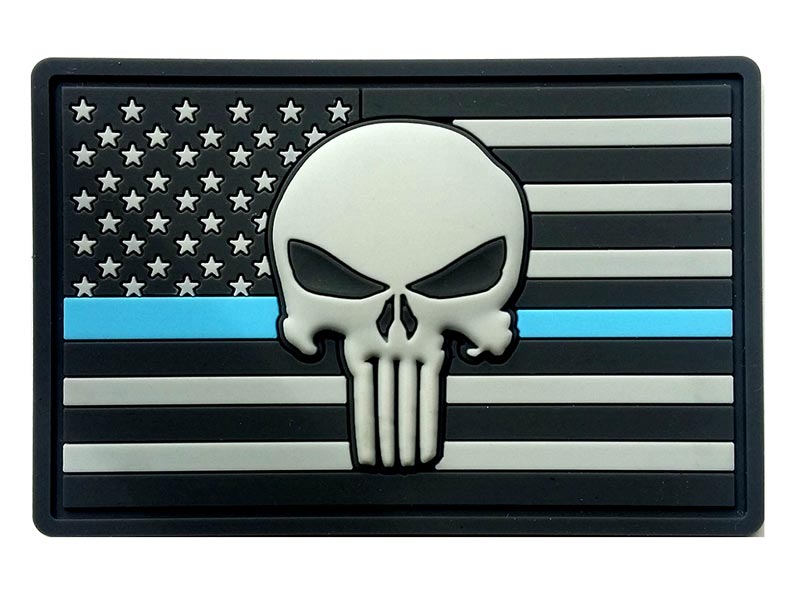 American Flag PVC Patch + Thin Blue Line Hook and Loop Patch
You can also show your support to our Police with an Thin Blue Line American Flag Patch.
FIND OUT MORE ABOUT OUR CUSTOM PVC PATCHES
Get Your Thin Blue Line Patches Started Today!
What does the Thin Blue Line mean?
The phrase "thin blue line" refers the US Police officers as the forces of light and order against the dark and chaos, the "thin blue line" is also a symbol that conveys supporting the police officers and their fight against crime.
Short history of the Thin Blue Line
A long time ago there was the Thin Red Line, a legendary formation of the British Army that faced a Russian cavalry in the XVII century. Then, a poet that have heard about that British formation, wrote some verses about the US Army title "The Thin Blue Line".
From those days to ese these days even movies have been filmed using that metaphore.
In fact, The Thin Blue Line is also a famous documentary about the murder of a Dallas Police officer (Robert W Wood). In the movie someone (Randall Adams) is unjustly sentenced to death for a crime he did not commit. Thanks to this american documentary (directed by Errol Morris in 1988) the defendant recovered its freedom. The film was included in the list of the 1000 best movies ever done, a selection made by The New York Times diary.
Police officers are always exposed to a high risk, being the ones in charge of keeping the peace and the order. Many of them have passed away doing their job. As a way of showing respect for theme many organizations and even companies are ordering a patch, coaster, keychain, or magnet with this so called thin blue line.
Do you have a great idea for Custom Thin Blue Line Patches?
Send us your project's details and we will help you make awesome support our police Patches