Custom Police Patches for Law Enforcement Agencies
We are a Custom Police Patches Supplier with over a decade supplying high quality soft rubber badges to Law Enforcement Agencies in the US.
PVC Patches are ideal for Sheriff, Federal Agencies.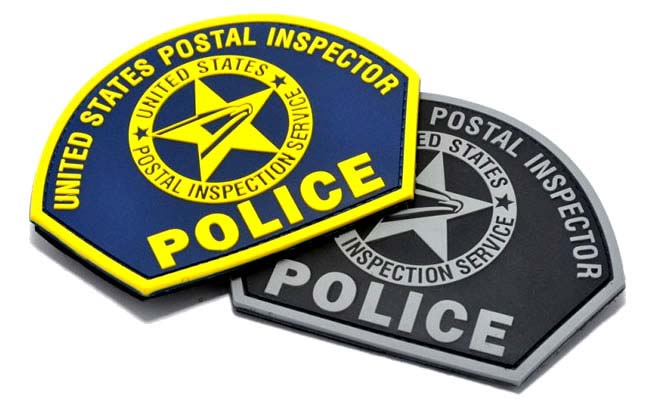 LAW ENFORCEMENT Patches for Your Uniforms
Every Law Enforcement Agency in the United States has a special emblem and patch on their uniform. They can include their location, jurisdiction, rank, etc… These patches are suitable and necessary for City Police, County Sheriffs, SWAT Teams, Highway Patrol Officers, ATF Officials, FBI, Forest Ranger's, and other agencies.
We take security very seriously and only make custom police patches for verified Law Enforcement Agencies.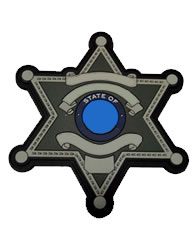 Custom Sheriff Patches
Just like the rest of the custom police patches on the left, every sheriff department will use any combination of these patches. Some department patches are sewn to their uniforms and will use Hook and Loop patches on tactical teams and special units.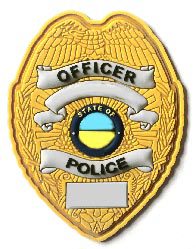 Custom Police Badge Patches
We can make your PVC badge patch in any shape and design, just like a standard badge, but better!
Below you will find a few design templates we can use for your agency's patch. Colors, shape, text, any and all design elements can be customized to fit your Department's traditional logo. Just send us a picture of your current badge and our design department will create an Art Proof for you, and make the necessary changes until you are satisfied.
You can sew them to your uniforms or use Hook and Loop patches on tactical teams and special units' uniforms.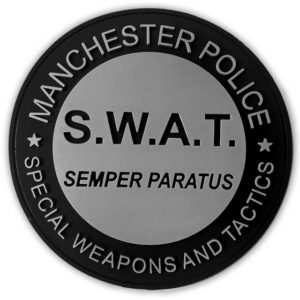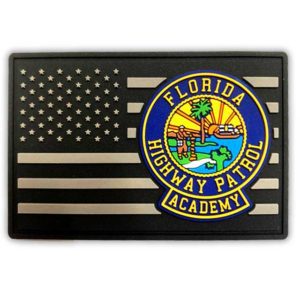 ---
LET'S DESIGN YOUR POLICE PVC PATCHES
While regulations may vary slightly from one agency to the next, a police dress uniform will include shoulder patches usually sewn on, rank chevrons and a police badge. It is also common to have American Flag Patches on the right shoulder.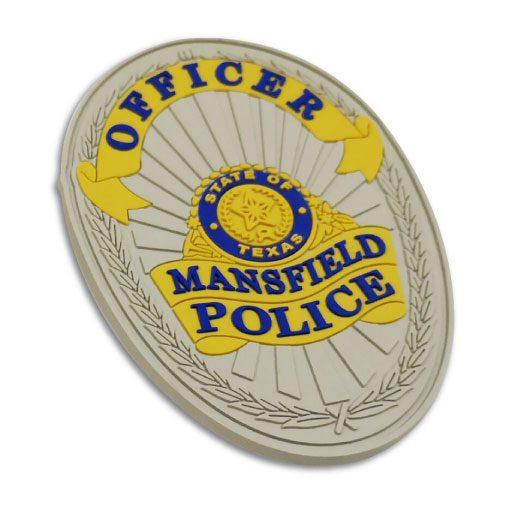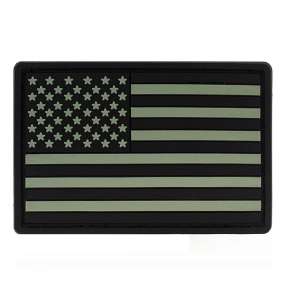 A SWAT team uniform will include a shoulder patch, POLICE patch in both front and back or their vest, all of them will be Hook and Loop patches, for ease of placement.
Since Police Departments have their design for both the Shoulder and badge patches already done, what our designers will do is to translate the logo so it can work with PVC manufacturing, and will suggest enhancements that will make your patch amazing.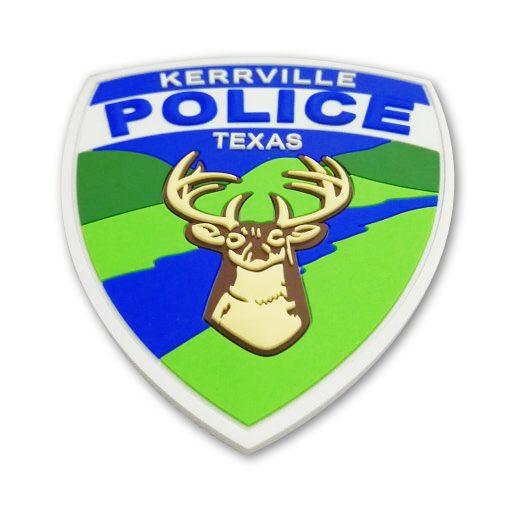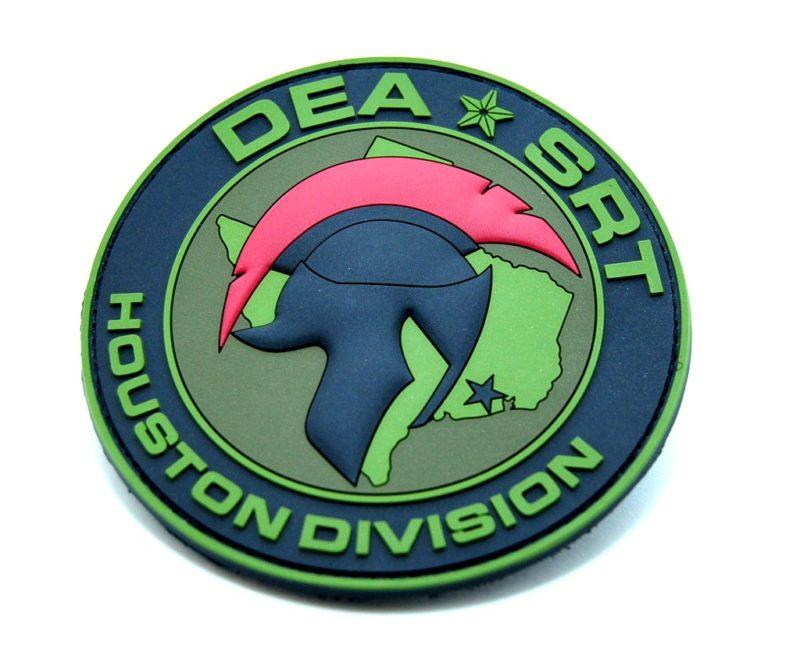 Your custom police PVC patches will no longer be limited to a one dimensional design, because with PVC we can offer 2D & 3D dimensions, you can make some elements pop just by placing them in different layers.
We can add glow in the dark pigments to improve the visibility in the dark – keeping the officer safe and even more recognizable.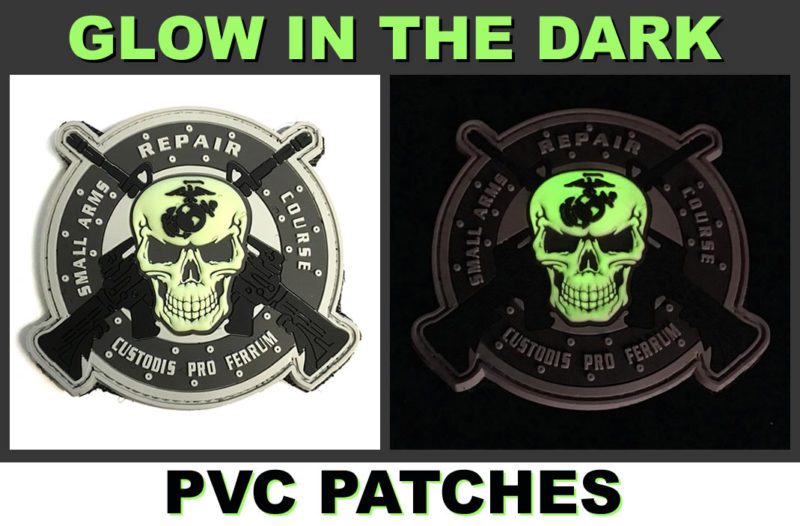 3 REASONS WHY CHOOSING PVC PATCHES FOR YOUR POLICE BADGES
Tradition says, custom police patches are made using embroidery, but every year more and more agencies are choosing PVC instead, here is why.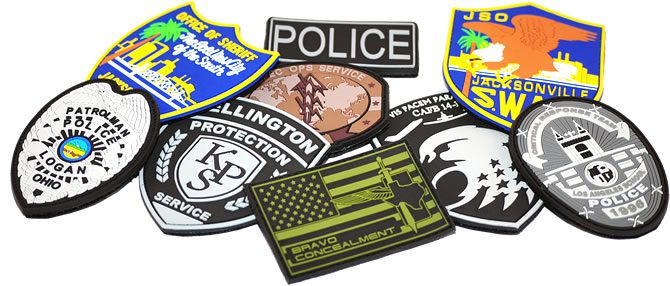 Ordering Custom Police Patches
Several Law Enforcement Units have put their trust in our ability to create amazing custom patches for their uniforms. Traditionally, uniform patches have been made embroidered or woven, but once the PVC patch style came along, the shift has been non-stop.
Every day more and more Tactical Units ask us about the option of having their patches made in PVC instead of Embroidered. and it's not a surprise for us: a PVC patch will outlast their uniform in good shape.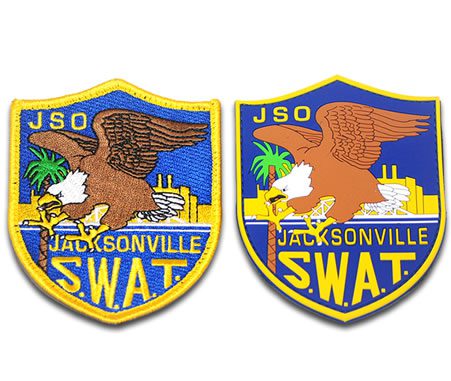 Custom Embroidered Patches have a different feeling than PVC, they can be perceived as luxurious or timeless, while PVC police patches are dynamic, resistant, flexible, the right combination for swat and patrol uniforms. Even security companies can now enjoy the great benefits of PVC patches
However, if you prefer the look and feel of embroidered patches, can we help you as well, visit our sister website, siennapacific.com and find out more.
Follow these 4 Easy Steps To Get Your Custom Police Patches
Learn here how to order your law enforcement patch design.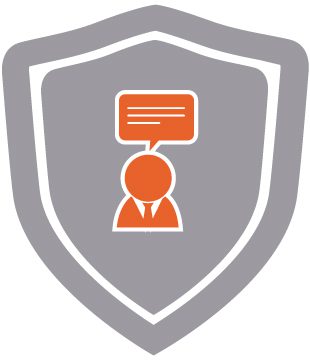 Step 1: Get Your FREE Price Quote!
Send us your project's details. If you have your Art ready send it right to us in illustrator, that's perfect! Otherwise you can send us just a draft and we will design it for you.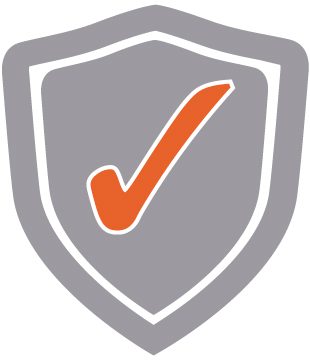 Step 2: Approval
Approve Your Price Quote and Your Art Proof.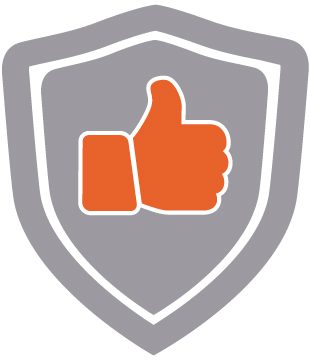 Step 3: Confirmation
3-7 Business Days after you approve your Factory Art we will send you a picture of your actual patch.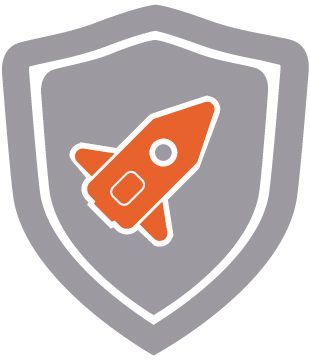 Step 4: Fast Delivery
Approve your custom police patches sample, and we will make and deliver your patches within 3-4 weeks … Share with your team your Awesome PVC Patch!

Reviews
PVC Patch


5 out of 5 stars

08/14/2023

"Rosana Levesque really did a good job! She handled my order promptly and sent me updates as needed. I would recommend LINX and Rosana, unqualifiedly. Great customer service"

PVC Patch


5 out of 5 stars

08/10/2023

"Incredibly detailed customer service. With many hands in the decision making process, there were several revisions to the proof. Revisions came in quickly and accurately. Final product was delivered before the expected due date and is of the highest quality."

PVC Patch


5 out of 5 stars

08/6/2023

"The PVC products came out really nice and I was impressed with the work they produced."
FaQ
How do I order custom police PVC patches?
To order custom police PVC patches, simply follow these steps:
Visit our website and navigate to the
Custom Police PVC Patches
section.
Click on the
Request a Quote
button to initiate the customization process.
Choose your patch design, size, and colors using our simple form. Choose the desired quantity of patches you want to order.
Add any specific text, images, or logos you'd like to include in your patch.
Review your request for accuracy and click
Submit
once you're satisfied.
Once we receive your request we will send you a quote within 24 h. To proceed placing your order follow the link we send you along with your quote accepting the terms, Proceed to checkout, fill in the necessary shipping and payment information, and confirm your order.
Once your order is submitted and confirmed, our team will start working on your custom PVC patches immediately.
What customization options are available for custom police PVC patches?
We offer several customization options for your police PVC patches:
Choose from different patch sizes ranging from 2 inches up to 6 inches.
Select from various types of patch shapes, such as square, circular, shield, or a custom shape.
Pick from a wide array of colors for your patch's background and text.
Perfectly incorporate your department's logo, unit information, or desired insignia.
Add optional features like special borders, 3D effects, or hook and loop backing.
No matter your unique requirements, we are confident that our customization options will suit your needs and help create a professional and long-lasting PVC patch.

How much do custom police PVC patches cost?
The cost of custom police PVC patches depends on several factors, such as:
The size and complexity of the design.
The quantity of the order.
The addition of any extra features like 3D effects, merrow borders, or velcro backing.
We recommend that customers request a quote through our website by filling out our
Get a Quote
form. This will help us to provide you with accurate pricing based on your exact requirements.
Can I get a discount on bulk orders?
Yes! We offer attractive discounts on bulk orders for custom police PVC patches. The more you order, the more significant the savings! To know more about our discounts and special offers, please contact our customer support team, and they will be happy to assist you.

What is the turnaround time for custom police PVC patches?
The turnaround time for custom police PVC patches varies depending on the complexity of the design, quantity, and current order volume. However, most orders are typically completed and shipped within 2-3 weeks from the approval of the design.
Should you require your custom PVC patches in a shorter time frame, we also offer expedited processing and shipping options at an additional charge. Feel free to discuss your urgent needs with our customer support team, and we will do our best to accommodate your request.

How do I track my custom police PVC patch order?
Once your custom PVC patches have been completed and shipped, we will send you a tracking number via email. You can use this tracking number to track your package on the shipping carrier's website and monitor its delivery status.
Moreover, our dedicated customer support team is always here to assist you with any questions or concerns about your order's current status.
We hope you've found our FAQ informative and helpful! Please don't hesitate to reach out to our customer support team if you have any additional questions or concerns. 
Can I receive a sample before placing a large order?
Yes, we offer a sample preview service to ensure you are satisfied with the design and quality of your custom police PVC patch before committing to a larger order. You can request a digital or physical sample during the ordering process. Our team will provide a digital sample for your approval and can also provide physical samples for a small additional fee.