One of our customers devised a unique solution to a problem that many boat owners today have faced – not being able to cover their boat in a timely fashion. Not only was it hard to cover a boat before, but it made the entire process of cleaning and storing boats that much more inconvenient. Our customer solution: make a system that allows a boat (50 foot) to be covered in 60 seconds!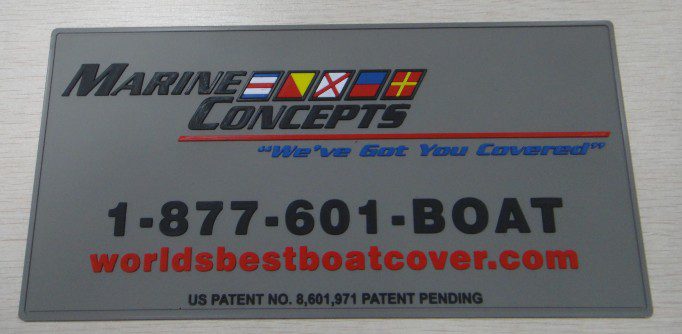 Their system is comprised of a canvas cover that slides over the boat front to back with ease. This is done by having a pulley system connect to the boat cover to allow it to slide over with ease.
One thing they didn't have was a nice label that reflects the durability and flexibility of their system. They turned to us to assist in the creation and production of a high-quality PVC label that was flexible, durable, and can stand the test of time like their product.
What we created was a label that is 10" Wide and 5" High made with a 3D Soft Rubber PVC molding process. This allows for larger numbers and letters to have a rounding effect. This label has all the pertinent information required for them to properly brand their product (Company Name, Logo -series of nautical flags-, slogan, phone number, website, and patent information).
Who is Marine Concepts?
They are an innovative manufacturer of canvas boat covers. Their solution allows the application of the cover to a 50ft boat in as little as 60 seconds!
Check out their website, https://www.worldsbestboatcover.com, or FaceBook page, https://www.facebook.com/pages/Marine-Concepts/167265846641253.
Are you looking for Large Rubber Labels?
Send us your project's details and we will help you make awesome Patches