One of our customers devised a unique solution to a problem that many boat owners today have faced – not being able to cover their boat in a timely fashion. Not only was it hard to cover a boat before, but it made the entire process of cleaning and storing boats that much more inconvenient. Our customer solution: make a system that allows a boat (50 foot) to be covered in 60 seconds!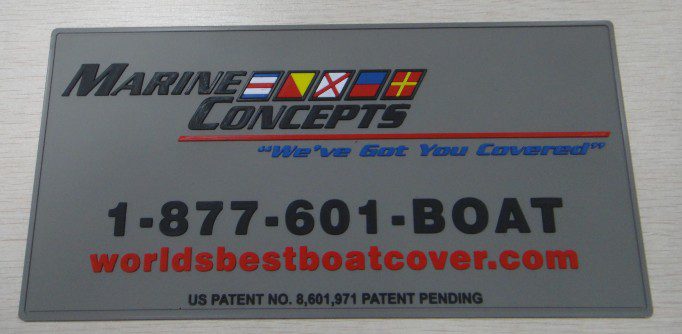 Their system is comprised of a canvas cover that slides over the boat front to back with ease. This is done by having a pulley system connect to the boat cover to allow it to slide over with ease.
One thing they didn't have was a nice label that reflects the durability and flexibility of their system. They turned to us to assist in the creation and production of a high-quality PVC label that was flexible, durable, and can stand the test of time like their product.
What we created was a label that is 10" Wide and 5" High made with a 3D Soft Rubber PVC molding process. This allows for larger numbers and letters to have a rounding effect. This label has all the pertinent information required for them to properly brand their product (Company Name, Logo -series of nautical flags-, slogan, phone number, website, and patent information).
Who is Marine Concepts?
They are an innovative manufacturer of canvas boat covers. Their solution allows the application of the cover to a 50ft boat in as little as 60 seconds!
Check out their website, https://www.worldsbestboatcover.com, or FaceBook page, https://www.facebook.com/pages/Marine-Concepts/167265846641253.
Are you looking for Labels FOR YOUR BOAT COVERS?
Send us your project's details and we will help you make awesome labels
Why PVC labels are the perfect way to finish off your boat covers
Boat covers can be made from a variety of materials, including canvas, vinyl and plastic. They come in a variety of shapes and sizes to fit most boats, and can help protect your boat from the elements.
There's nothing worse than seeing a boat cover that doesn't have the right finishing touch. A sloppy job can really take away from the look of your boat, and it can also be dangerous. That's why PVC labels are the perfect way to finish off your boat covers. They're affordable, easy to apply, and they add a professional touch that will make your boat stand out from the competition. Plus, they'll help keep your boat looking its best for years to come. So if you're looking for a way to improve your boat cover, PVC labels are the solution you've been searching for!