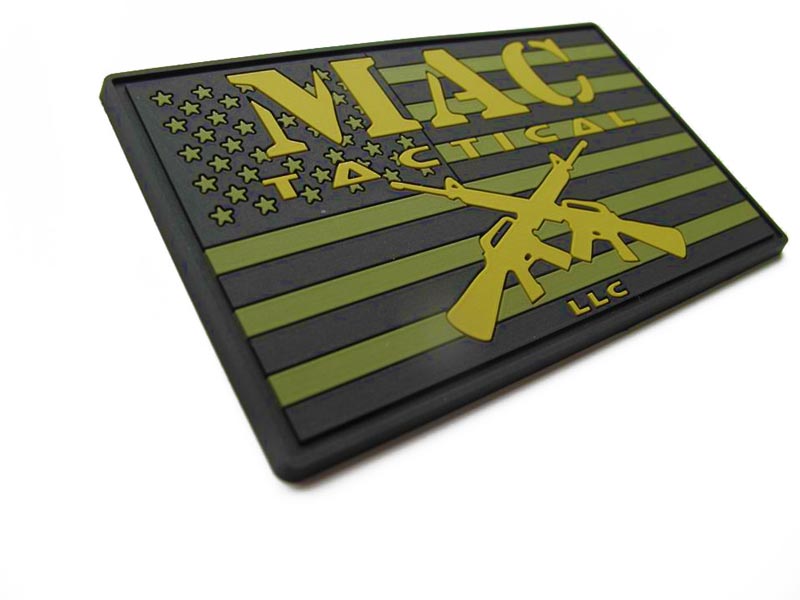 Mark Cook is the owner of MAC Tactical. When he initially spoke to us, he saw a patch that gave him idea of how to use his logo in conjunction with the American Flag. We took his idea based on the patch he saw and turned made it his own – the MAC Tactical PVC Patches.
Their mission is to provide top quality Firearms, Accessories, Service, and training to their customers. Mark contacted us originally because he was looking for a cost effective way to get his company name out there.
Tactical PVC Patches
This is a great looking piece since it embodies the American Spirit, but also shows off his company logo – two M16 rifles crossed under his company name.
The patch is a 2D Soft Rubber PVC Patch. Black makes up the base layering (where the sewing channel is located), and the rest of the design is on it's own level, just risen above the base. If you were to run your hand across the patch it would feel flush, with the exception of the sewing channel, and any other recessed lines. Rather than using standard flag colors, he opted for a subdued color scheme. Where the blue would be located in the flag, black is now present. In addition, black is used to make up every other stripe. Dark green has been used for the stripes that aren't black, along with the stars. Mark's company emblem is done in a dark earth color. On the back of the patch is Velcro.
One application Mark has applied these patches to are hats – see the picture below.
More About Mark and MAC Tactical, LLC
Due to Mark's interest he decided to start a home-based business for the sale of firearms and related accessories. It has since evolved into training, consulting, and sales of NFA items. His primary goal is to continue expanding the business and open a retail store in the future.
What's Mark think about working with us?:
"I couldn't have been more pleased when the final product arrived, the patch is well made, the design is exactly what I was looking for. The design process was very easy, after just a few emails back and forth we had the final design completed and production could start. Thank you very much for your product. -Mark Cook"
Facebook: https://www.facebook.com/mactacticalllc
Want Your Own Tactical PVC Patches Made? Click The Link Below:
https://www.pvcemblems.com/custom/pvc-patches/ – Click here to request a quote and see more of our work.