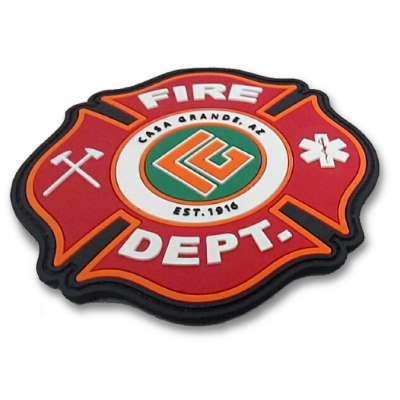 Fire Department Patches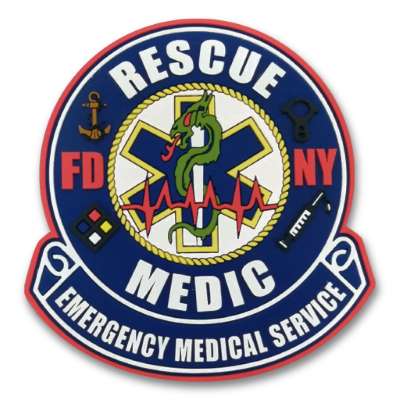 Velcro EMS Patches
If you are looking for patches with your EMS service company logo, patches that you can put on job shirts/coats, you might want to consider PVC patches over embroidered or woven patches.
For Emergency Medical Services personal in the need of uniforms able to withstand the elements and last a life time our Custom EMS Patches are by far the ideal solution.
These types of badge patches, also called ambulance patches or security patches, are considered also as a fundamental part of the firefighter apparel and gear.
Soft Rubber PVC Patches vs Embroidered
Although custom embroidered patches were used extensively in the past by police officers, fire departments, search and rescue teams, soldiers, emergency paramedics and emergency medical technicians, nowadays patches made out of this soft rubber material are the best choice for those seeking to identify their job shirts or rain gear.
If it is true that embroidered items has a vintage look, however soft PVC's strength and high temperatures resistance (among other aesthetically reasons) makes EMS patches stand out, no matter if you are using it as a chest patch, as a shoulder patch or as a hat patch.
Featured Patches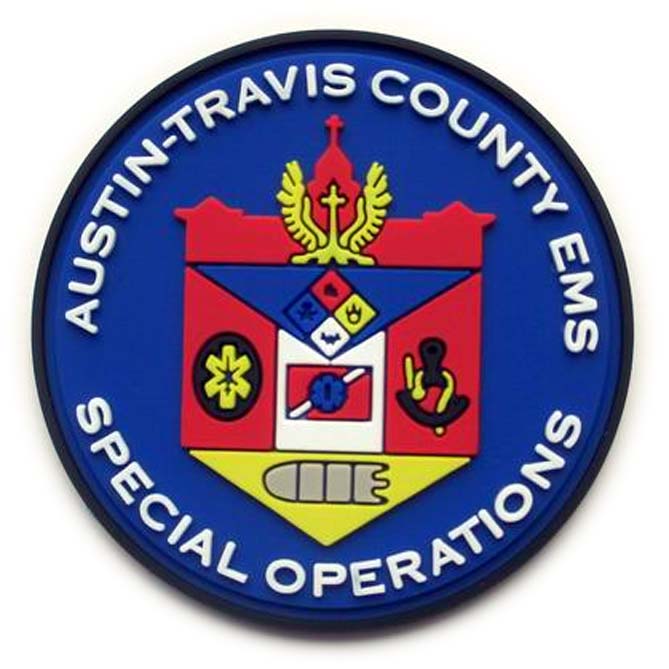 Special Operations EMS Patches
The city of Austin contacted us to create a PVC version of their standard EMS patch, with its respective Velcro Back, as their resistance and design flexibility surpasses the life span of regular embroidered patches.
As they were planing on sewing it to their jackets, our customers chose the option of no Velcro backing, and the white background goes very well with the dark blue of their jackets. The 2D design of this patch is all what's needed with a logo that is so well designed.
4 Weeks after they approved the art for their patch, it was ready to be sent to them.
PVC patches are absolutely phenomenal – Stadium Medical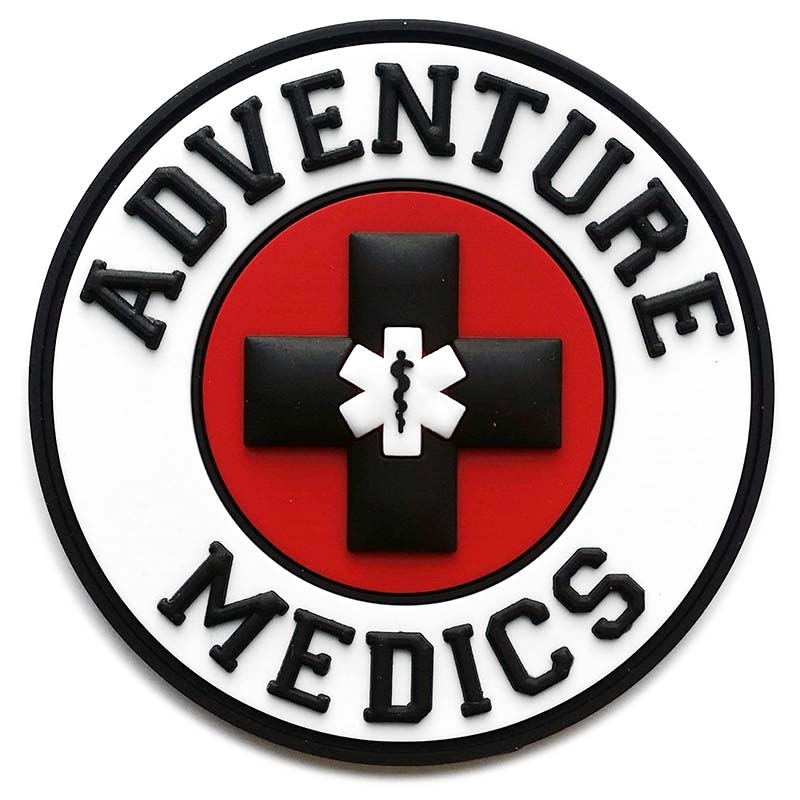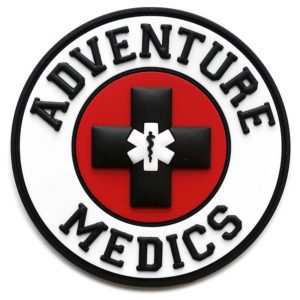 Adventure Medics Patches
Our customer wanted patches for their hats (Velcro makes them easy to apply).
These events they cater to, are those where rock-climbing, mountain biking, surfing and other extreme activities is practiced, in places such as Alaska, or Costa Rica.
Their patches needed to be resistant to almost any type of conditions, which is Soft PVC's main advantage.
As their website states, Adventure Medics:
"We are here to raise the standard of medical care in the pre-hospital setting and provide peace of mind for event promoters."
PVC Patches Key Features
Shape: Custom shapes are possible.
Color: we use standard PMS Color (choose any from your color chart or pantone)
Strenght: soft pvc responder patches are flexible and lightweight but will keep their shape and won't distort or break
2D or 3D : square or round edges
Custom badges backing options:

Sewing channel (recommended)
Velcro backing
Iron-on
Similar Shoulder Patches:
Hero's Pride patch.
Tactical EMS Patch
Paramedic EMT (emergency medical technician) Patch
EMT intermediate Patch
Tactical medic Patch
Special Unit Patch
EMT Ambulance Patch
Responder Patch
Fire EMS Patches
Customer Reviews
PVC Patch


5 out of 5 stars

01/29/2020

"We have made some great patches with you guys, but this one is our favorite. Becky is incredible, she is always there for us and a great ambassador for your business!"

Curry Wright

PVC Patch


5 out of 5 stars

01/28/2020

"Super awesome. Very easy transaction. Great looking, quality product. Already sold 10% of the patches in less than a week. I foresee a restocking order in the near future. Thanks"

Brent Bunger

PVC Patch


5 out of 5 stars

12/10/2019

" Linx Corp was a pleasure to work with. The patch turned out exactly as we envisioned. Thank you."

Munitions Law Group
Give us a call and talk to a Real Person
The most reliable PVC maker, will help you make an awesome custom PVC Product for your company