PVC Patches are slowly becoming one of the most popular Soft PVC products in our product line. They are so resistant, cool looking and the high versatility they bring, especially when compared to embroidered patches is rapidly making them a crowd's favorite.
Being a new product is not easy: People must learn all about you so they can get the most out of your capabilities. 🙂
How to Make PVC Patches: Everything You Need to Know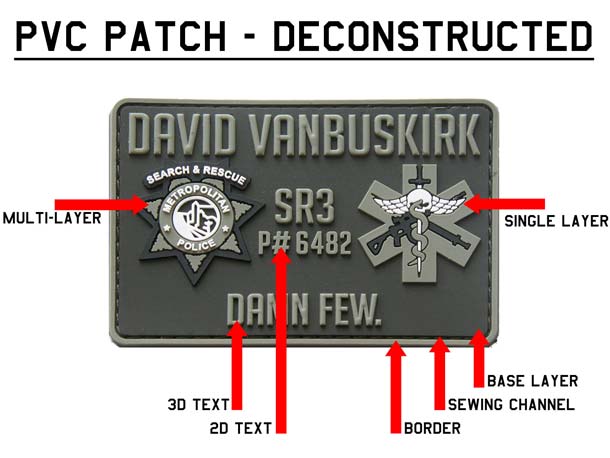 HoW aRE PVC PATCHES MADE?
The first characteristic one must know about a PVC Patch is the way they are built:
Learn more about the differences between a PVC patch and a PVC label.
Understanding PVC Patch Terminology
We can break the options for a PVC patch in
Basic Elements
Layer Options
Element Options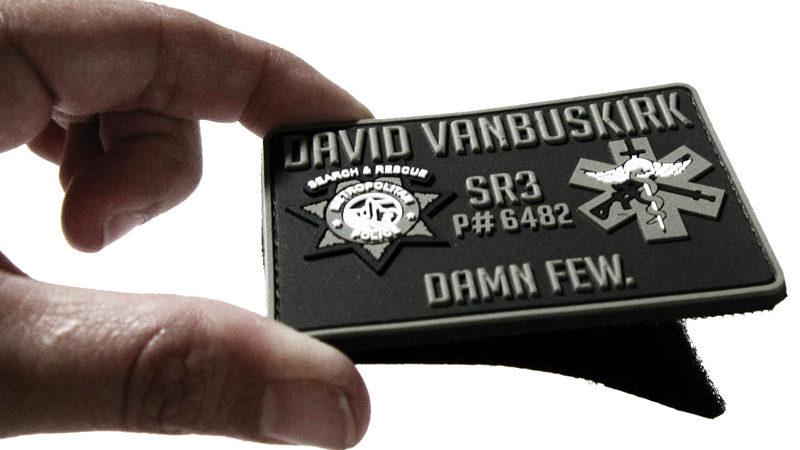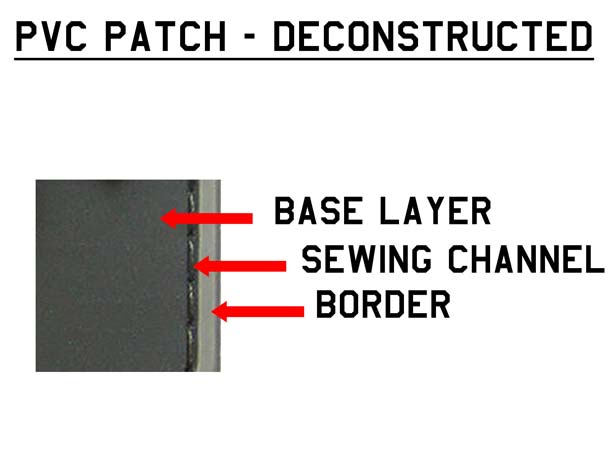 Basic Elements
The basic elements of a PVC Patch are:
Base Layer: It is the base layer where the whole patch will be "resting" on. It is the main color on the design. It can (or not) be the same color as the…
Border: It is the edge of the patch. It can be raised (or not), it can be the same (or different) color than the Base Layer.
Design: Any other elements that "rest" on top of the Base Layer.
Sewing Channel: It is a little channel or recessed line made with the purpose of making it easy to attach the Backing (i.e.Hook and Loop). It usually follow the contour of the patch.
Backing: Applied to the back of the patch, its purpose is to help with the application of the patch on the item. (ie. Hook and Loop and Adhesive backing)
Layer Elements
The basic elements of a PVC Patch are: Any Design Can be:
Single-Layered: All elements are at the same level, when you pass your hand through the top, it feels smooth, nothing sticks out above the rest.
Multi-Layered: Some elements are at different levels, it feels a little rough to the touch, with some elements (i.e. left picture: text is resting on top of the shield)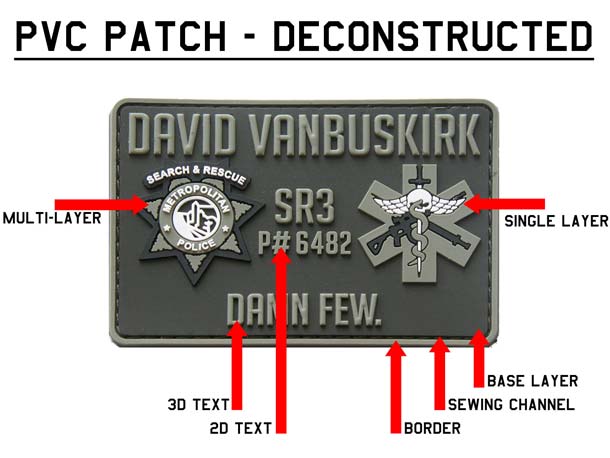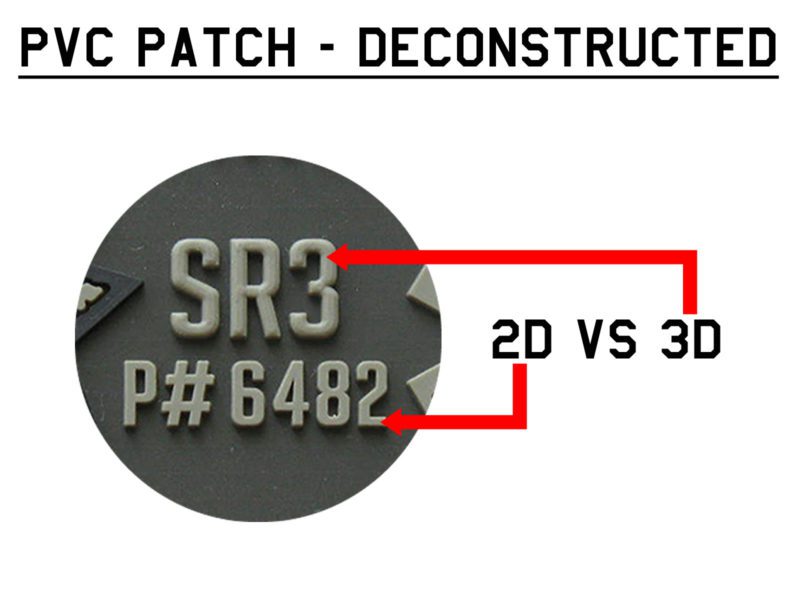 Elements Options
Any PVC Design element can be
2D Design : the top of the element is flat, as if it was sliced with a knife. Edges are at 90 degree angle.
3D Design: the top of the element is concave, there is no edge, just a curved border. They are usually a little thicker than 2-D elements.
If you are look for ideas on how to make PVC patches stand out from the rest and you are unsure if you want your design to be 2D or 3D, know that you can combine both styles into one patch. Hence, you can POP the main element, logo, airplane, face or mascot to create a cool effect.
BONUS: HOW TO MAKE PVC PATCHES THAT EVERYONE WANTS TO WEAR?
If you are looking to make your soft rubber patches highly rewarded by the wearer, you will have to make them extra special, here a few ways you can do that:
Creating Your Unique PVC Patches is easy with Us!
Making your own PVC patches can be an easy experience if you are ready for it. Although you cannot actually make your own PVC patches at home from raw materials, you can certainly make them from home by partnering with a great patch supplier like LINX Corporation, PVC Emblems parent company.
Who uses Our Patches?
Any company looking to brand their products on their employees vests and gear. They are also used as garment labels, rubber patches for clothing or PVC Labels.
What Should You Know Before Ordering CUSTOM RUBBER Patches?
As PVC is a waterproof and weather resistant material, your patches will last longer, no fraying involved.
FAQ's
How DURABLE are PVC Patches?
Very resistant. The Soft PVC makes them sturdy enough to deal with outdoor use, they can resist sun, rain, extreme temperatures and humidity conditions without breaking or fading.
Is there any size limitations? How big can a PVC patch be?
PVC patches can be as long as 11″
How do PVC layers work?
In order to understand the way layers are built, let's think about a coloring book design where you have a design per color: you add colors to each area and then overlay these designs on top of each other, creating a layered design, where each layer can have its own height and colors.
How is PVC better than Other Patch Types?
The best patch type for your project will depend on your likes and dislikes, the nature of the project, the place it will be attached to, among other things. But, the one use where PVC definitely wins the battle is a custom design used as Hook and Loop Patch, on Tactical Gear (commonly known as a Tactical Morale Patch). Always accompanied of their respective American Flag Patches
What Makes These PVC / Rubber Patches So Special?
They look amazing!
You can have very small text on your design, without those stinking jump-stitches (read our article about PVC vs Embroidered patches)
They have "substance". The weight of a PVC patch is much more than the one of woven patches (read our article about PVC vs Woven Patches)
Did we mention they do not have threads? The MAIN reason custom rubber patches are the Preferred Choice of any Law Enforcement Agency that is looking to get new patches for their uniform or tactical gear is that rubber Will Not Get Stuck, unraveled or Ripped (unlike thread in custom embroidered patches) while you are doing your job.
Can I Have My Patch Design Made in PVC?
99% of the time, the answer is Yes! In occasions we will have to simplify some elements if they will not work with the PVC manufacturing process, but it will be worth it!
Designing the patch can be a fun task: Feel free to play around with shapes and colors, our team will let you know if it will work out!
How to attach a PVC patch to your item?
You don't need to be an expert to attach a patch to your jacket, vest or hat. You just need to choose the right backing for it.
1- For a permanent use (You will sew them on) Choose no backing. But don't worry, all of our patches come with a sewing channel, which will make it easier to stitch them up to your item.
2- For temporary use (Easy on and off) Choose Hook and Loop backing. Take them off before washing your jacket, or vest, and reapply when needed.
3- For a one time use (Or for items that will not be washed) Choose Adhesive backing. They will stay on as long as the conditions of moisture and heat are favorable. – Ask for samples and test them yourself –
Learn more about the differences between a PVC patch and a PVC label.
aRE pvc patches flexible?
Yes they are! They are made from a soft form of PVC (polyvinyl chloride), also called Soft Rubber. This makes them very malleable and flexible. They are NOT made with hard PVC, like found in pipes; nor plastic.