Military, tactical, flag, sheriff, USMC, k9, firefighter, EMS, army PVC Velcro patches
Custom Military Patches: Why PVC?
PVC Emblems specializes in creating custom military patches to match any service member's military uniform. We can also help you create PVC patches that are perfect for expressing your team's unique style.
Army, Navy, Air Force, we know military patches are what make you stand out in a crowd, and show your dedication to country!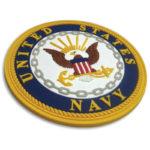 Rubber Military Patches for Your Military Uniforms?
Military gear has come a long way in recent times, and one of the greatest new innovations is PVC patches. PVC stands for Polyvinyl chloride, a rubber like material that have tremendous benefits over others.
You want your military gear to work for you, and generally speaking this type of tactical gear takes much more of a beating than regular gear. It's important to have something that stands the test of time.
Custom Military Velcro Patches
For certain special units, it is important that patches can be removed to prevent identification. We make that easy, just by adding Velcro backing to your rubber patches you can remove and replace them whenever you need. With removable hook and loop (Velcro) patches you can swap them out without sacrificing our hurting your military gear.
Do You Want To Create Custom Military Patches for your Unit?
Send us your project's details and we will help you make awesome military PVC Patches
Create Custom Military Patches
Let's Create Your Custom Military Patches Together!
Every order of Military PVC Patches are quoted on a case by case basis, we will need your artwork/design/sketch and a detailed description of your project for accurate quoting.
Customer Reviews



Military PVC Patch


5 out of 5 stars

10/06/2020

"Perfect! Great communication, quality product and craftsmanship, accurate colors, easy process! Thank you!!"

Multicam PVC Patch


5 out of 5 stars

04/04/2017

" Any transaction that runs as smoothly as did this scores as Excellent."

USMC Velcro Patches


5 out of 5 stars

05/22/2019

"Very pleased with the quality of the product. Came out better than expected. Staff was helpful and professional."



Related products