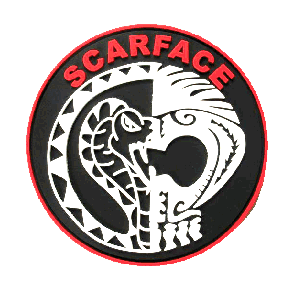 Custom Morale Patches – US based Designer and Supplier
From our humble base in Carlsbad California, we supply Custom Morale patches and traditional tactical patches to help inspire, build morale and motivate.  Our high quality Custom made morale patches are sturdy and weather proof. Thanks to the Hook and Loop Backing these PVC Patches can be easily attached and removed from uniforms or tactical gear. Identify now your custom squadron or military unit and stand out from the others with any shape, any color, 2D and 3D design.
Custom tactical Patches Gallery
Our custom PVC morale patches are made from a soft and pliable plastic called Polyvinyl chloride. They can be manufactured in any color and crafted into just about any shape imaginable.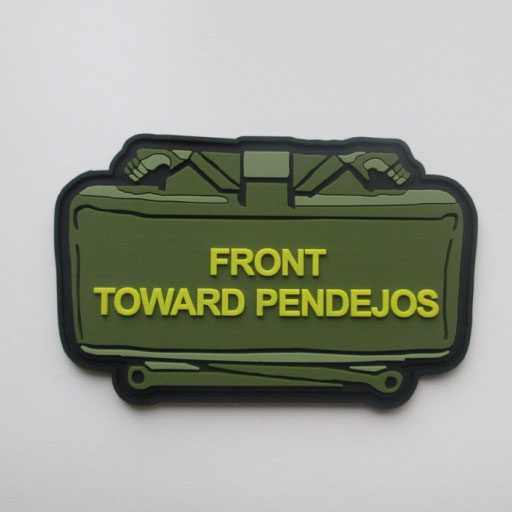 Are you considering Rubber Patches for your uniforms?
Send us your project's details and we will help you make awesome Patches
Customer Reviews
PVC Patch / 3D Design


5 out of 5 stars

04/03/2023

"This was my second order, and as always they make a great product and deliver on time. Thanks!"

PVC Patch


5 out of 5 stars

03/19/2023

"Great customer service, they adjusted our design as desired and produced and shipped it in a timely manner. Very impressed, will do business with them again."

PVC Patch


5 out of 5 stars

03/16/2023

"Great Prices, Fast Service, Fast Shipping, No Funny Business, What you see is what you get. They price they quote is the price we paid. Do Business Here!"
Why Should You Work With Us?
Why PVC instead of Embroidered or Woven Patches?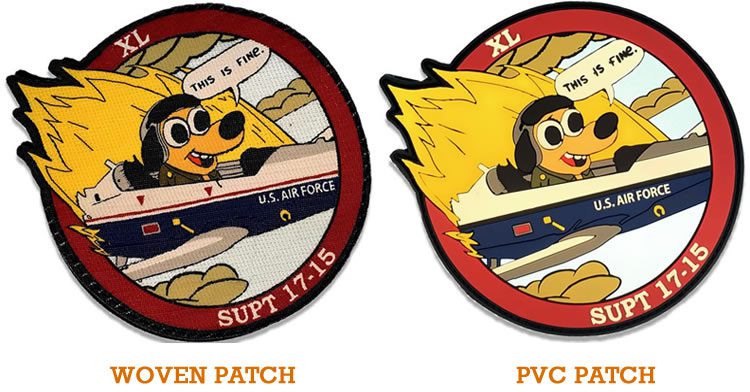 Many organizations that purchase PVC morale patches instead of woven or custom embroidered morale patches tend to do so because of the durability and versatility characteristic of PVC patches.
They can be manufactured with either a 2D or 3D design, are the perfect backdrop for simple designs and specially those that are more intricate.
However the main benefit of using PVC instead of embroidered or woven patches is:
No more loose or tangled threads!
Custom Embroidered or Woven Iron on Patches can have Merrowed Borders or Laser Cut Borders. (If you have decided on these type of patches, visit our sister website, siennapacific.com and we will help you make the best custom morale patches for you)
Custom PVC Patches can be made with a single color or many, small lettering or large lettering. They can be worn anywhere, even in the elements of the weather, such as, rain, humidity or sunlight, without fear of subsequent damage.
This is one of the reasons why they are given to military personnel, who tend to spend a substantial amount of time outdoors.
Nonetheless, if you are worried about turnaround time, worry no more! It takes the same amount of time to make a sample (7 days), and to make your tactical patches (3 weeks) for all of the patch options above.
Custom Morale Patches PVC?
PVC morale patches provide a visible acknowledgment of a person's achievements which subsequently, helps to raise morale. They can work just as effectively in any setting. Sports coaches may find that they can help to create a similar response among their athletes. They could be worn on uniforms, hats, sports jackets or bags. On the other hand, leaders of civic organizations, where uniforms are also often worn, might find a morale patch beneficial for strengthening their organization as well.
Morale patches are frequently sewn into uniforms and so are considered permanent. However, they don't have to be. In fact, most of our customers prefer Hook and Loop patches, so we can add Hook and Loop backing, which allows for their easy removal.
When custom military patches are needed, an organization, club or tactical gear junkie can hardly go wrong with ones made from PVC. It is a durable material that can be used to create patches with rich, varied color and intricate patch designs. PVC patches can stand up to the wind, rain and sunlight and you can have the peace of mind that they won't fade or fray overtime, their high quality is unsurpassed.
Frequently Asked Questions
How Much Does It Cost To Get Custom Patches Made?
The price of the patch will depend on variables like style, size, colors, backing and complexity of design. Just let your Sales Rep know and they will assist you.
What Do You Put Morale Patches on?
You can put your tactical patches on almost any piece of military gear, US Army and US Air Force Units: Shirt, Jacket, Vest, Backpack, Hat… anywhere.
What Size is a Morale Patch?
The most common size for a morale patch that goes on your hat is 2″x3″, on your shoulder 3″x4″, and in your vest you could even use the little ranger eyes, 1″x1″
What are the different types of tactical patches
Here you have 10 tactical patches categories
1. Morale patches – used to boost morale and show unit pride
2. Identification patches – used to identify personnel, such as name tapes or blood type patches
3. Unit patches – represent a particular unit or branch of the military or law enforcement agency
4. Flag patches – display the national flag or other flags representing the country or organization
5. Rank patches – indicate the rank or position of the wearer within the organization
6. Specialty patches – signify special skills or training, such as sniper or bomb disposal
7. Award patches – represent honors or achievements, such as marksmanship or valor
8. Mission patches – commemorate specific missions or deployments
9. Humorous patches – add some humor to the uniform or gear
10. Political patches – express a political message or stance.
How to make a Morale Patch?
100% Satisfaction Guarantee
Give us a call and talk to a Real Person
The most reliable PVC maker, will help you create awesome custom morale patches for your agency.
Related products