Custom Airsoft Patches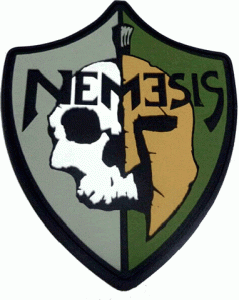 Soft PVC Patches are TOUGH
These soft, rubber patches withstand even the toughest of conditions. There is no wear and tear that can take down PVC. PVC patches are Style and Durability partnered together for success.
Soft PVC Patches are LONGLASTING
Unlike embroidered patches, PVC does not lose its impact of color over time. The discoloration and fraying that naturally occur with embroidered patches will no longer be an issue for you if you make the switch to PVC.
Soft PVC makes a BOLD STATEMENT
PVC is fully customizable with unlimited options in design to help you get your statement across with greater impact. If you want a look that adds dimension to your airsoft team patches; make the switch to PVC. You will no longer me limited to a one dimensional design because PVC offers 2D & 3D dimensions.
All of our Custom PVC Patches are quoted on a case-by-case basis, we will need your artwork/design/sketch and a detailed description of your project for accurate quoting.
Common Sizes & Shapes
3″ Round
2″x3″ Rectangular
Backing
Plain Backing – Sew them on
Velcro Backing – Easy on and off
Colors
Full Color
Multicam
Subdued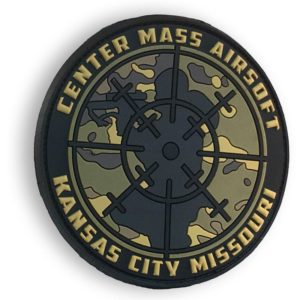 Maker of Custom Airsoft Patches for a Massachusetts Airsoft Field
I have a decently complex logo with green flames in the background. I ordered 2 inch patches from Linx and they made them as good as PVC patches can possibly get. They helped by creating multiple drafts for me until I was pleased with the digital file. Even having seen the digital creation, I was still surprised when I received the patches about how nice they were.
Eric Donato – DarkFire Airsoft
Center Mass Airsoft enjoys the outdoors and the adrenaline rush of simulated combat. If it has anything to do with Airsoft, this team will like it. Based in Kansas City, CMA helps maintain a field right within city limits! And though the team loves playing in the 30 acres of forests they've made their Airsoft home, the team members are always branching out across this state AND others to find those sweet Airsoft locations all operators dream of slinging plastic in.
---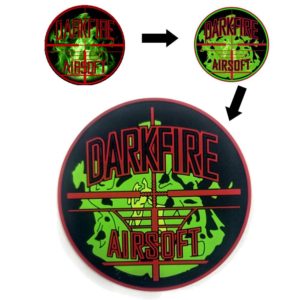 Custom Airsoft Patches – Darkfire Airsoft
Join the many law enforcement and milsim tactical teams who trust us to manufacture their custom airsoft patches for their team's uniforms, with quantities as low as 100 pieces, you can get your design turned into an amazing PVC patch in a month or less. Just click the Free Quote Request Button on the top of the page and get started today!.
Common Questions