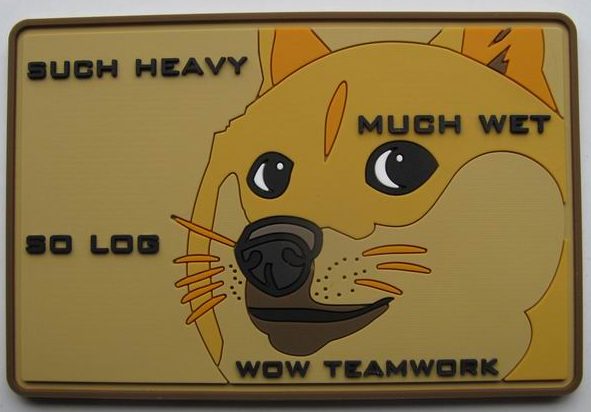 Our customer (All Day Ruckoff) came to us wanting to turn their design concept into an awesome looking PVC patch. The design was inspired by a dog with slogans around it. Take a look for yourself at the image to the left.
The first thing to point out about this PVC patch is that it's a 2D design. Although the phrases "SUCH HEAVY," "SO LOG," "MUCH WET," and "WOW TEAMWORK" have been raised above the 1st level, it's still a 2D design.
The overall thickness of this particular patch is 2.5mm (1.8mm is considered the base layer – the foundation which the rest of the design is built upon) and the rest of the design/colors are .7mm above that).
GoRuck Patches
The only thing that goes above the 2.5mm is going to be the wording which is raised onto an additional level. Next thing to point out will be the number of colors – 8 to be exact. The varying amount of colors on this design for the dog and the background make it possible for the design to really shine. Each and every color is separated by a recessed line.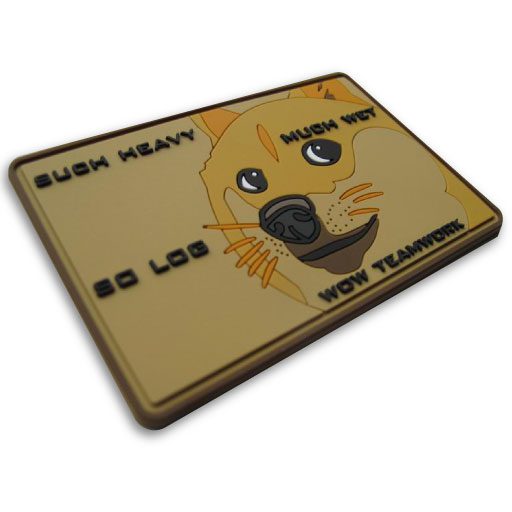 This makes for very clear and concise lines and detail within the design, but also helps to annunciate the design changes in the image being depicted. Finally, there's a sewing channel (recessed line around the outer perimeter) which the thread goes through and attaches to Hook and Loop on the back.
This is the most sturdy way to apply Hook and Loop to PVC Patches rather than only using glue.
Overall, our customer was very excited to finally produce their first PVC Patch especially since it turned out to impress beyond their expectations.
Who is All Day Ruckoff?
The organization was founded by Brian (aka Fennis). He is an avid runner, swimmer, triathlete, and heavy object lifter. He's always looking for new challenges and likes to participate in many of GORUCK's ongoing challenges. In addition, his website offers some great products and gear (including the Doge Ruck Patch), reviews on different products, information on GORUCK events, and much more. Take a look at the links below to learn more.
All Day Ruckoff Website – https://alldayruckoff.com/
Blog Post Announcing The Patch Arrival – https://alldayruckoff.com/announcements/doge-ruck-patches-stock/
Facebook Page – https://www.facebook.com/AllDayRuckoff
Want Your Own Custom PVC Patches?
Click the link to take a look at a few customer examples – https://www.pvcemblems.com/custom/pvc-patches/
Looking to Get Custom PatcheS?
Please contact us and send your project's details and we'll help you create awesome Patches
Let's get your police or fire department uniforms look amazing!