Custom PVC Patches – Show off your logo!
Ideal for jackets, hats, backpacks and bags since PVC is a waterproof and weather resistant material. They are the alternative go to for outdoor gear, such as, camping equipment, covers and outer wear. All of our products are custom designed to your specifications.
Soft PVC patches are very popular for: Police Departments, Military Units, Scout Groups, Highway Patrols and Fire Departments, Outdoor & Sports such as Airsoft, Paintball, Hiking and Morale.
They can be sewn on the garment equipment or they can have a Velcro™ backing if you don't want your patches to stay permanent.
Who is using PVC Patches?
Why Should you choose us? We'll let our work do the talking
Creating Your Custom Patch
Why Should I use PVC Patches instead of Embroidered Patches?
While embroidered patches have been the standard in uniforms and identification for many years, they are more susceptible to the outdoor elements than PVC patches (not to be confused with Vinyl Patches, which are thinner and way more flimsy than the sturdy but soft PVC material we use).
Here are a few reasons why PVC is taking the military, law enforcement and commercial 'patch world' by a storm.
Soft PVC patches can be made with a 2D or 3D design. They are the alternative go to if you're looking for a waterproof material that can also withstand heat and cold temperatures.
PVC, which stands for Polyvinyl chloride, is a soft and adaptable plastic that can be molded to any shape and dyed to any color or shade. It allows extreme detail and precision. Soft PVC works perfect for colorful or complicated design with small lines or small lettering.(No more ugly jump-stitching)
Soft PVC is flexible and lightweight yet durable like no other. Your military patches will most likely outlast your uniforms
One surface, multiple possibilities: You can print on PVC. If your design has very small details, colors with gradients or other details we can print them onto any layer of your PVC design and create your unique PVC Printed Patches
Mold Style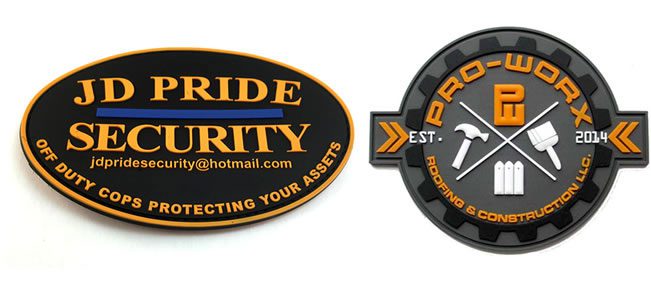 Give your patch a unique personality with a 3D design.(or fake a 3D look with 2D layers).
Any Shape & Size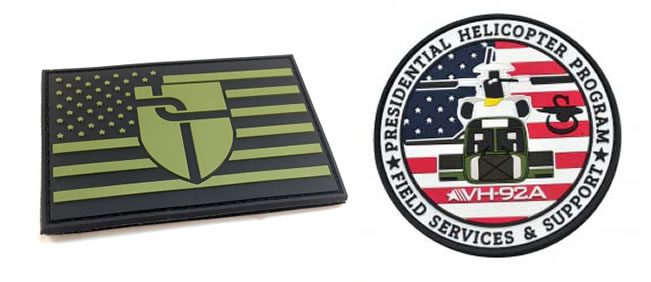 As little as 0.5″ or as big as 17″. Your Patch, Your Size. Use a standard shape or have the patch adjust to your design.
The most popular sizes and shapes are a 3″ Round Patch and 3″x2″ Flag Size Patch. Or you can have your Soft rubber patch in a custom shape you wish to.
Any Backing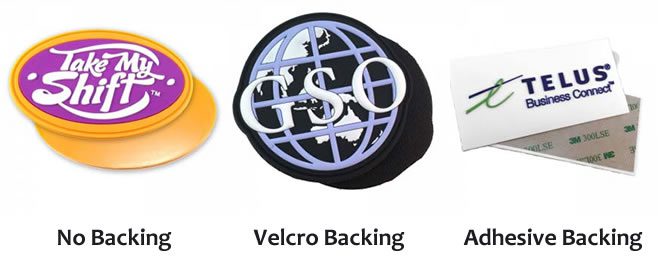 Choose from plain back, Velcro© hook or Self adhesive(3M©).
Any Thickness
Specify anywhere from 1.5mm up to 4.0mm. (Standard is 2.5mm)
Soft Rubber vs Silicone
Our standard PVC patches are made out of Soft Rubber PVC, which is a material that combines very pleasing aesthetic qualities along with durability.
We also offer eco-friendly Silicone patches, which are a bit more expensive but they have the advantage of being safer for the environment.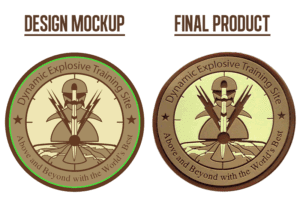 3″ Round. 2-Dimensional Design. 3 Colors (PMS Color Matched). 2.5 mm Thick. With Sewing Channel (For Velcro). Velcro Back
All of our PVC patches are quoted on a case by case basis, we will need your artwork/design/sketch and a detailed description of your project for accurate quoting.
Because we know our visitors want to have a price reference before requesting a price quote, here it is:
Price breakdowns for the patch on the right are as follow:
100 pieces, $3.76 ea

300 pieces, $2.71 ea

500 pieces, $2.54 ea

Mold Charge, $125 (One Time Charge, Good For 2 Years)
Tell us what you need. Fill out our online form, or give us a phone call 1.866.611.6168

Approve your price quote and we will begin your artwork.

Approve your artwork

Send us your billing and shipping information.

Review and Approve your Pre-Production Sample.

Full production times of about 15 business days.

Your order will ship to you vie Fedex Ground or faster if you need.
Total turnaround time from the day of the quote can be as fast as 4 weeks.
Don't Know Where to Start? Give us a call 1.866.611.6164
Let us know your project's details and we will help you make an awesome PVC Patch
What Other Custom Products Can You Manufacture with Soft PVC?
Besides soft pvc patches, we can also make custom labels, keychains, zipper pulls, coaster, magnets, luggage tags, dog tags and lapel pins.
If you are looking for other promotional products such as custom lapel pins, hard enamel pins, custom metal keychains, challenge coins, woven labels, embroidered patches, custom charms and other custom products.